Catalog of all Link issues Since 1968
The Link Catalog archive below constitutes a body of informed commentary, fact and anecdotal evidence that is all the more valuable for writers, researchers and historians because each issue (for the most part) covers only one subject.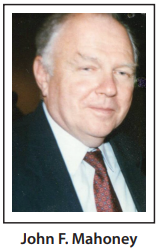 In his Link issue of September-October 2017, Thomas Suarez begins his article "The Cult of the Zionists" with these words: "In the late 1800s, after centuries in which bigots strove to keep Jews as a race apart, a new movement sought to institutionalize this tribalism by corralling all Jews into a single vast ghetto on other peoples' land."
More recently, in his January-March 2021 Link "The Decolonization of Palestine," Jeff Halper cites a position paper issued by Jewish Voice for Peace, now one of the largest Jewish organizations in the United States; it reads: "We unequivocally oppose Zionism because it… is a settler-colonial movement, establishing an apartheid state where Jews have more rights than others."
Many of our Link issues —and all 54 volumes are on our website www.ameu.com — are based on books, as were Suarez's and Halper's. But others, such as Audeh Rantisi's, are first-hand accounts that can only be found in AMEU's Link Archive. I have singled out a few of these bound witnesses that unmask the cruel face of Zionism.
"The Lydda Death March" by Audeh Rantisi and Charles Amash
Volume 33, Issue 3, July August 2000
He was 11 when they came. It was mid-July, and hot. Three soldiers banged on the door and, in English, ordered them out. His family was Christian, and with hundreds of other Christians living in town, they headed to St. George's Church.

They never made it. At a turn in the road just before the church, the soldiers ordered the confused villagers, now including Muslims, down a road that ended at a narrow gate that led to the mountains.
About a mile outside the gate they came to a vegetable farm, its entrance framed by a large gate, atop of which sat soldiers with machine guns firing over their heads, prodding them on through the gate. Audeh Rantisi did not know it at the time, but Lydda's death march had begun.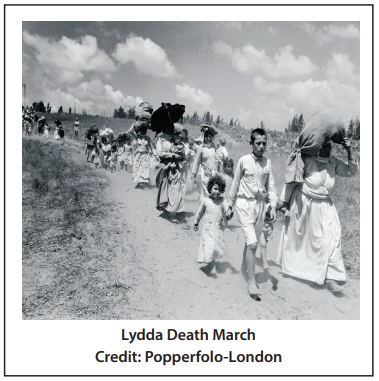 What happened next was recorded by him in our July-August 2000 issue of The Link.
Inside the gate, soldiers ordered everyone to throw their valuables onto a blanket they had placed on the ground, including money, jewelry, wristwatches, pens, even wedding rings. When Amin Hanhan, married for only six weeks refused, one of the soldiers lifted his rifle and shot him. "Go to Abdullah," the soldiers shouted, meaning the Palestinian territory under Jordanian control, a march of some 25 to 30 miles over rough terrain.
In the early hours of day two, soldiers on horseback came riding at them screaming for the 4,000 mostly women and children to get moving.
By day three, many had staggered and fallen by the wayside, either dead or dying in the scorching heat. Scores of pregnant women miscarried, their babies left for jackals to eat. Audeh can still see one infant beside the road sucking the breast of its dead mother. The survivors trudged on in the shadeless heat tormented by thirst to the point that some drank their own urine.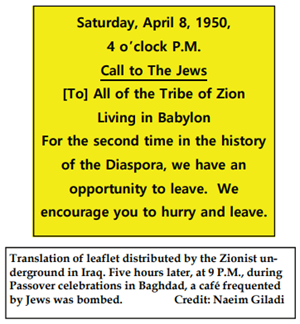 By day four, Audeh's family arrived in Ramallah with only the clothes on their back. Their life as refugees had begun.
Included in this issue is the eye-witness account of the death march by Charles Amash, then 16, who confirms much of Rantisi's account.

"The Jews of Iraq" by Naeim Giladi
Volume 31, Issue 2, April-May, 1998
The expulsion of families from Lydda was repeated in over 950 Palestinian towns and villages, resulting in some 800,000 refugees. This also left thousands of acres of cultivated land unattended. Zionist leaders were faced with two problems: one, to make certain the Palestinians did not return to their ancestral land and, two, to get Jewish laborers to take over the cultivation. Naeim Giladi knew the answer to both problems, being himself part of the answer.
A New York City rabbi first told me of Naeim who, by 1997, was living with his family in Whitestone, New York. I phoned him to arrange an interview and he graciously invited me, along with Link staff volunteers Jane Adas and Bob Norberg, to visit him at his home.
When we arrived we were anxious to do the interview, but Naeim insisted we have a lunch specially prepared by his wife. "It is our Arab custom," he said, laying his out-stretched hand over his heart, "My wife and I speak Arabic at home." When we did do the interview — following dessert and Arabic coffee — we thanked him for his family's hospitality and for sharing his extraordinary life story: his membership in the Zionist underground in Iraq; his imprisonment and escape from the military camp of Abu-Ghraib; his experience as an "Oriental" Jew in the new state of Israel and his life in America.
As for discouraging Palestinian farmers from returning to their farms, Naeim would learn upon arrival in Israel of the state's use of bacteriological warfare: In 1948, after Zionist forces emptied Palestinian villages of their populations, they poisoned the water wells to ensure their owners could not return . Naeim cites Uri Mileshtin, an official historian for the Israeli Defense Forces, who reported that Moshe Dayan, a division commander at the time, gave orders in 1948 to remove Arabs from their villages, bulldoze their homes, and render their water unusable by emptying cans of typhus and dysentery bacteria into the wells.
And as for finding Jewish workers to till the stolen soil, Zionists looked to Jews from Arab countries. The problem was how to convince them to leave their homeland; the answer: Terrorize them.
Some 125,000 Jews left Iraq for Israel in the late 1940s into 1952, most because they had been put into a panic by what Naeim later would learn were Zionist bombings of Jewish businesses and synagogues, followed by leaflets urging the frightened Jews to leave for Israel. Naeim, then a teenager, bought the lie and moved.
Once in Israel he was sent to al-Majdal (later renamed Ashkelon), a Palestinian town some 9 miles from Gaza. Here he was charged with forcing the indigenous inhabitants out of Israel into Gaza, then under Egyptian control, thus making it possible for Israel to establish its farmers' city, now worked by "Oriental" Jews. It was an order he refused to obey.
Naeim married, had children, and continued to challenge the state's ethnic policies. Then, when his son reached the age when he had to enlist in the Israeli army, Naeim took his family to America. He could have opted for dual U.S.-Israeli citizenship. He said no, he no longer wanted Israeli citizenship.
When we met with him in Whitestone, he was working as a night watchman and, unable to find a publisher willing to print his eye-witness account of Zionist atrocities. He eventually self published his book under the title Ben-Gurion's Scandals. See Wikipedia, which also notes his Link article. Naeim died in 2010.

"The End of Poetry" by Ron Kelley
Volume 31, Issue 4, September-October, 1998
Early in 1998, I received a phone call from a cable TV producer in Manhattan. He asked if I'd like to see a documentary on the Bedouin of Israel. It's rather extraordinary, he said.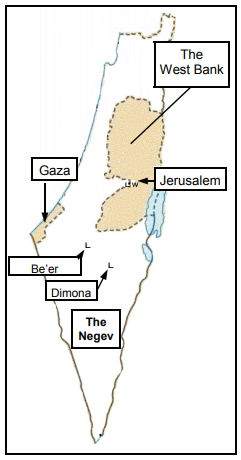 The day after viewing Ron Kelley's documentary, I phoned him at his home in Michigan and invited him to tell his story to our Link readers. He agreed in the hope that "the article can draw a little attention to the problem at hand."
The problem at hand, it turned out, was the ravaging of a people and their way of life.
Kelley, then 47, a professional photographer with a degree in anthropology, first encountered the Bedouin in 1992 as a Fulbright scholar at Ben Gurion University in Be'er Sheva, Israel. What he saw there — the uprooting of a desert people — convinced him to bring a Hi-8 video camera into Israel and to embark on a clandestine project beyond his Fulbright one. When he returned to the States he had 120 hours of surreptitiously recorded videotape on which he spent $20,000 and countless hours turning it into a documentary on the Bedouin to show to U.S. networks. But nobody cared: not PBS, not ABC, not an "Arab-Jewish peace" foundation, and surprisingly, not many Arab and Muslim Americans whom he contacted.
What does the documentary reveal? It notes that, In 1948, the new Zionist state of Israel made the audacious claim that ALL the Negev desert was Jewish owned. The problem then for Israel was what to do with the Bedouin who called the Negev home? The short-term solution, it turned out, was to move as many as possible en masse to a reservation area in the northeastern Negev, where they were isolated under military rule until 1966, unable to leave the area without special passes. Nor were they permitted to buy land in the reservation as only Jews could own the land. Some tried to regain their desert homes in court but, as Kelley notes, of the 3,000 lawsuits filed by the Bedouin over a period of two decades, not one Bedouin had ever won a land claim.
Israel's long-term solution was centered on seven governmentally created "industrial" towns, places segregated by law for Arabs only. Yet, even here, the land — considered part of the "Jewish People's" perpetual inheritance — cannot be owned outright by the Bedouin, who can only lease plots for specified periods of time.
While Kelley was filming, approximately half of the 90,000 Bedouin in the Negev had been corralled in the government sanctioned reservations. The other half lived in the desert, where they had to contend with the Green Patrol, an independent paramilitary police unit whose major function was to harass and persecute the indigenous Bedouin. This, as Kelley documents, includes the ravaging of their homes, destruction of their crops, killing of their livestock, and the beating of men, women, and children.
AMEU made an arrangement with Ron to distribute his 2-hour long video-cassette "The Bedouin of Israel," at a cost of $30 each. Not sure how many we would sell, we decided to buy them in lots of 20. When — and if — we ran out of the first lot, Ron gave us the phone number of his mother, who would run off another lot. To the best of my recollection we sold well over 100 cassettes, including some to human rights organizations. Then, one day, when we phoned to reorder another 20 copies, the number was no longer in service. It was the last we ever heard from Ron or his mother. And, anticipating a resupply of VCRs, we had sold our last one, and were left without a single copy of the video documentary. Only his Link article survives.

"Epiphany at Beit Jala" by Donald Neff
Volume 28, Issue 5, December 1995
Donald Neff was a seasoned reporter when, in 1975, he went to Israel as Time magazine's Jerusalem Bureau Chief. And, like most Americans, he came as an unwitting Zionist, who believed that the Jews deserved a secure state of their own, as the Nazi Holocaust had proved, and it followed that Israelis had a right to look out for their own safety.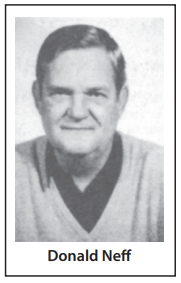 It was a preconception that would be challenged in multiple ways: the way most Israeli Jews failed to see the degradation imposed upon Palestinians by Israeli rule; the charming young Israeli woman who had lost her home in Germany and now lived comfortably in a home that once belonged to a Palestinian family; the 1975 U. N. General Assembly resolution calling Zionism a form of racism and racial discrimination; the 1976 Koenig Report, co-authored by Israel Koenig, Northern District Commissioner of the Ministry of Interior, that outlined how Israel could rid itself of some of its Palestinian citizens; the 1977 publication by The London Sunday Times of a major expose about torture of Palestinian prisoners by Israeli security officials.
But Donald Neff's final revelation — his epiphany — came in March 1978. These are his own words from his Link article:
It began with a telephone call from a freelance reporter, a courageous American…close to the Palestinian lawyer Ramonda Tawil. She reported she had heard reports that Israeli troops had conducted a cruel campaign throughout the West Bank against Palestinian youth. Many Palestinians had suffered broken bones, others had been beaten and some had had their heads shaved. Some of the victims were in Beit Jala hospital.
When I repeated the report to my staff, all of them Israelis, they reacted with horror and indignation. The whole group, a secretary, a teletype operator, two stringers, a photographer, and two other correspondents, cast doubt on the story. They all declared it was unthinkable because "that is what was done to us in the Holocaust."
About this time one of my best friends, Freddie Weisgal, stopped by. He was the nephew of one of Zionism's important theoreticians, Meyer Weisgal, and a former human rights fighter in the United State before moving to Israel after the 1967 war… He said something like, "Aw, come on, Don, you know Jews wouldn't do anything like that." He was agitated and indignant, which wasn't all that unusual for him. But there was an underlying tension too…"All right," I said to Freddie, "let's go to Beit Jala and check it out."
We drove in the chill gathering of darkness. We went into the small hospital and a young Palestinian doctor who spoke English soon appeared. Yes indeed, he said matter-of-factly, he had recently treated a number of students for broken bones. There were ten cases of broken arms and legs and many of the patients were still there, too seriously injured to leave. He took us to several rooms filled with boys in their mid-teens, an arm or leg, sometimes both, immobile under shining white plaster casts…They all said that for reasons unknown to them, Israeli troops had surrounded their two-story middle school while classes were underway. In several classrooms, on the second floor, the students were ordered to close all the windows. Then the troops exploded tear gas bombs and slammed shut the door, trapping the students with the noxious fumes. They panicked. In their rush to escape they fled from the rooms so fast that some of them went flying over the balcony to the asphalt and stony ground below.
About the third time we heard the same story, I noticed Freddie's face. It was gray and stricken. He was shaking his head and wringing his gnarled hands. "Oh, man," he said "this is too much. I'm getting out of here." And he left, taking a bus back to Jerusalem. Afterwards, he never talked about Beit Jala.
My Israeli photographer, who had followed in his own car, was not looking much better. But he dutifully continued taking pictures of the injured boys…There could be no doubt about what had happened to them. Still, I wanted to see where the attack had occurred. The school was just up the hill. It was dark by now, but I had no trouble with a flashlight finding spent tear gas canisters with Hebrew lettering littering the ground…Now I was more determined to nail down the aspect of the story that had so upset my staff and astounded me: the cutting of hair. I had to admit to myself that I found it almost too bizarre to believe that Israelis would actually inflict on another people this most humiliating symbol of the Holocaust. On the other hand, my experience told me that Israeli hatred of Palestinians might make anything possible…
The next morning at Ramonda Tawil's house I met several of the young men who had had their hair shorn. They had not been shaved but clumps of hair were missing from their heads as though roughly cut by a knife. They said they had been picked up by Israeli troops for no obvious reason and were ordered to do exercises and pick up litter and weeds, some of them through most of the night. They had heard that similar scenes had taken place all over the West Bank.
I returned to a sullen and nervous bureau where hanging in the air was the question of whether I was going to do a story. I announced I was.
Time gave the story prominent play and it evoked outrage by Israeli authorities and American Zionists…The atmosphere in Israel was even harsher…I was attacked to my face as an anti-Semite and shunned by some…Then a miraculous thing happened. Ezer Weizman, the father of Israel's air force and an upright man, personally took the matter into his own hands. As defense minister, he appointed a commission to investigate the matter. It found the Beit Jala story true.
Shortly after that finding, Don left Israel amid worries about his personal well-being.
On return to the States he authored several highly acclaimed books on the Arab-Israeli confrontation.
Donald Neff died in 2015.

"On the Jericho Road" by James M. Wall
Volume 33, Issue 4, September-October, 2000

Jim Wall was but a few months into his tenure as editor of The Christian Century when, in 1973, he received an invitation from the American Jewish Committee (AJC) to take an all-expenses paid trip to Israel. At first he declined the offer, then accepted it on the condition he would pay his own expenses, while the AJC would arrange his travel, hotel accommodations, and itinerary.
In December 1973, he landed in Tel Aviv with, as he would later confess, absolutely no knowledge that the airport was built on the Palestinian town of Lydda, where the Death March occurred. What was impressed upon him throughout his AJC planned visit was the fear Israelis had of another Holocaust, this time by invading Arab armies, a Holocaust only they could prevent with a strong military force. Any fears the Palestinians might have about their future were unaddressed.
That, however, would change when the AJC arranged a meeting at the Holy Land Institute in Jerusalem. As Jim recalls it, he was surrounded by evangelical Christians who shared an intense loyalty to the Zionist state of Israel and who faulted him and The Christian Century for its hostility to Zionism prior to Israel's becoming a state in 1948. At some point in the evening, an American Mennonite pastor, serving a three-year tour in Jerusalem, quietly approached Jim and asked if he could come by his hotel later that night "for a chat." Jim agreed.
His name was LeRoy Friesen and when they met later that evening he told Jim he was hearing only one perspective. And he proposed that they travel together into the West Bank and up to the Golan Heights.
Jim agreed; and since he was paying his own way, the AJC host had no grounds to object.
What Jim experienced on his road to Jericho is best told in his own words:
LeRoy drove us in his VW coupe along the road to Jericho, the location for Jesus's story about the Good Samaritan. Driving northward out of Jericho, we talked about the importance of the Jordan River valley in terms of both farming and security. We stopped along the highway to admire the fertile fields of Israeli crops that lay between us and the river.
We then left the highway and drove on a dirt road up a hill and stopped to talk with a Palestinian farmer, who was sitting in front of his house. I remember him as rather elderly, and I was struck by the resigned sadness in his manner. He pointed up the hill to his well, which reminded me of a Georgia sharecropper's well, and we saw that it was connected to a pump that provided water to his modest-sized field.
Quite a distance farther up the hill was an Israeli well, surrounded by barbed wire and e
nclosed in a concrete casing. That well was much deeper, LeRoy explained, and pipes carried its water down the hill where we could see it spraying onto the Israeli fields in the Jordan Valley. I knew enough about aquifers to know that the deeper, more sophisticated Israeli well (its pipes buried beneath the soil) would soon render useless the farmer' shallower well, with its open, above ground pipes.
What I saw that morning has shaped all of my subsequent understanding of the region. This was the strong dominating the weak: control, not sharing. Something was seriously wrong with this picture.
In that farmer's sad, resigned face was my epiphany. The existential reality of injustice witnessed first-hand, as LeRoy knew, is a far more powerful teaching tool than injustice heard or read about.
Jim Wall would go on to make over 20 trips to the Holy Land, always insisting that half of the tour at least be with a Palestinian guide. He would serve as editor and publisher of The Christian Century until 1999, and later as a contributing editor from 2008 to 2017.
Jim honored AMEU by accepting membership on our Board of Directors and National Council, and by authoring two other Link articles, one in 2004 ("When Legend Becomes Fact") and one in 2009 ("L'Affaire Freeman").
It was while we were preparing this issue of The Link that we learned of his death this past March. Jim was an ordained Methodist minister, and he ended his "On the Jericho Road" article with these words: "The legacy of injustices between conquerors and conquered — catalogued at Camp David II as borders, refugees, settlements and Jerusalem — must sooner or later be morally and legally confronted, confessed and corrected."

"People and the Land, Coming to a PBS Station Near You?" By Tom Hayes
Volume 30, Issue 5, November-December, 1997
Our Link articles run around 7,500 words over 16 pages. Only once have we extended it to 21,000 words over 24 pages. That was for Tom Hayes. An independent documentary film maker from Ohio, Tom had made two documentary films about Palestinians, "Native Sons" which he began filming in 1981, and "People and the Land" which he began in 1989. How he got the 27 crates containing nearly 20 miles of film footage shot in the Occupied Territories during the First Intifada past the Military Censor and the Passport Control Officer is a story in itself. Included in this footage was his focus on the number of children maimed by Israeli soldiers. From December 1987 through July 1993, 120,000 Palestinians were wounded, of whom 46,000 were under 16 years of age, leading to the speculation that the Army's policy was not so much to kill as to maim the children as a way of pressuring their parents to leave their homeland.
But it's the roadblocks he encountered here at home that are alarming. When a notice appeared in the Columbus Dispatch that he had made Native Sons, a documentary that focused on three Palestinian refugee families, he began receiving phone calls at all hours of the night, death threats against him and his then pregnant wife. He put wire mesh on the windows of his house to avoid a fire bombing. It didn't help. Someone busted the window out. Next his phone line was cut. He talked to the police and told them about the documentary. They asked if he owned a gun. He began to feel like he was living in occupied territory.
When it later became known that Tom had received a grant from the George Gund Foundation for his Native Sons project, the Columbus Jewish Federation got a copy of the Gund proposal, which was not public record, and sent a barrage of correspondence to the Community Film Association (CFA), the group administering the Gund grant, trashing Tom and his film, and threatening to sue CFA board members for their personal assets.
CFA called Tom in to say that Dennis Aig, one of their board members, would be screening a rough cut of his film. Aig, who at the time was active with the Columbus Jewish Federation, ended his private screening in Tom's cutting room yelling "You can't say that!" A week later, CFA sent Tom a letter informing him that it found that he was engaging in propaganda and that he would forfeit a $20,000 grant he had received from the Ohio Arts Council (OAC). The CFA only agreed to honor its commitment after the OAC threatened to deny it funding in the future.
Tom also learned that the Ohio State University School of Fine Arts had booked a local theater for the premiere showing of Native Sons, only to be told later that the theater owner refused to show it. When the School of Fine Arts threatened to pull all its entries from his theater, the owner agreed to show Tom's film.
Years later, when he was looking for funding for People and the Land, Tom got the nod from the Independent Television Service (ITVS), a service which Congress mandated be created through the Corporation for Public Broadcasting to help under-served minorities increase programming diversity on PBS. In July 1991, ITVS called Tom to say his film had been selected for funding, but first they had some questions. Above all, they wanted to know where he got every penny for shooting the film. 18 months later, ITVS agreed to give the grant, this time with the stipulation that no public information about the film would be released without Tom's approval.
ITVS submitted People and the Land to PBS for national release in February 1997. Sometime after that Gayle Loeber, Director of Broadcast Marketing for ITVS, called to say that PBS had "declined the program." Loeber said ITVS could still prepare press materials and arrange a satellite feed to all 283 PBS affiliate stations, what is called a soft feed. These stations, at the discretion of the individual program directors, can air any of the dozens of soft feeds they receive each week. The first press release draft omitted mention of the foreign aid issues that the film starts and ends with. ITVS said they would make Tom's correction. What they did was delete his sentence: People and the Land carries this humanistic perspective into a look at U.S. involvement in the Israeli occupation comparing Israel aid figures with cuts in human service programs for American citizens — $5.5 billion dollars in aid to Israel, 5.7 billion in cuts to human service programs."
Tom called ITVS. A staff member told him Jim Yee was the new Executive Director and that he had ordered the copy cut.
In May 1997, ITVS called to say some of the PBS stations wanted more information about the program and why they should air it. Tom agreed to answer them. What Tom was not told was that ITVS had requested Mark Rosenblum, founder of Americans for Peace Now, to review the film. Rosenblum concluded that the film was "approximately 20% accurate", that "97% of Palestinians are ruled by Palestinian authorities", and that "Jews had attained a majority status in Palestine by 1870." His review was sent to every programming director in the PBS system.
The Link contacted Mr. Rosenblum to confirm his comments. He denied ever writing a "review" or having put any comments in writing for ITVS, although he did say he had expressed certain opinions orally to someone at ITVS. Told that ITVS had quoted him as saying the documentary People and the Land was "20 percent accurate", he denied ever giving a percentage of accuracy. Likewise, he denied saying 97% of Palestinians are ruled by Palestinian authorities or that Jews had reached a majority status in Palestine by 1870.
The Link reached Suzanne Stenson, formerly of the ITVS staff, who said she had transcribed Mr. Rosenblum's comments on a laptop computer during an hour-long phone call and that, prior to its dissemination to the PBS stations, the text quoting Mr. Rosenbaum was emailed to him for review at his personal and business addresses. No response to these emails was ever received, she said.
Still, thanks to grassroots organizing, People and the Land was shown on at least 23 PBS stations, and over 160 DVD cassettes of the documentary have been distributed by AMEU, a record number for us.
In 2014, Tom and his crew returned to Palestine to document The Wall, the checkpoints, the humiliations, the killings. Why, you might ask him, go back for yet more aggravation? "When you know the truth, the truth makes you a soldier" Tom might reply, a favorite quote of his from Mahatma Gandhi. [Tom's third trip to Palestine is recorded in our Nov.-Dec. 2015 Link "Between Two Blue Lines." Ed.]


"Save the Musht and the Land of Palestine," by Rosina Hassoun
Vol. 26, No. 4: Oct.-Nov. 1993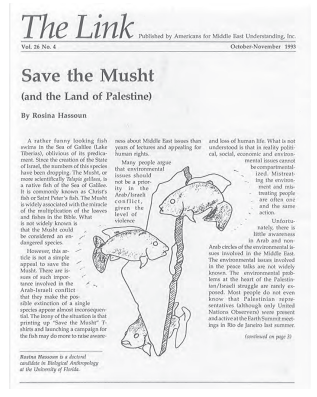 Rosina Hassoun delivered the first of four papers on "The State of Palestine," a panel sponsored by the American-Arab Anti-Discrimination Committee at its 1993 National Convention in Alexandria, Virginia. The other three presenters talked politics, everything from Israeli annexation of the Territories to Palestinian sovereignty over them. When the time came for questions, the 500-plus audience directed all its questions to the political analysts.
Then something unexpected happened. The session ended and the three analysts made their way out of the room. But not Rosina. She was surrounded by reporters and interviewers, as well as audience members fascinated by what she had to say. A half-hour later I managed to speak with her about writing a feature article for The Link.
Rosina speaks of paradigms, that is, of the images a people have of themselves and their land. Zionists, for example, see Palestine as a wasteland and a desert. For the World Zionist Organization, Palestine was "a land without a people for a people without a land." Its aim was "to make the desert bloom."
For the Zionist colonizers this dual image of wasteland and desert satisfied their three ideological imperatives: Ownership: Those who create something out of nothing get to keep it; Absorption: A wasteland offers a borderless capacity for colonization; and Exploitation: Jews, especially those from Europe, America and South Africa brought with them western attitudes towards resource usage, namely that resources are there for the taking. European and American Jews also brought western images of manicured lawns and swimming pools as part of their idealized lifestyles.
For Palestinians, their images of the land are traditionally those of: Motherhood: This paradigm of land as mother, found especially in their poetry, stems from the belief of Palestinians that they are descended from the multitudes of people who previously inhabited Palestine in an unbroken line dating back to the Canaanites and before; Fertility: This paradigm of fertile crescent or bread basket derives from the Palestinian system of food production founded on agricultural practices of planting citrus, olives, grains and vegetables with rock-terracing, practices that reflect ancient Nabatean and other early practices); Village: Palestinians developed relationships between the villages and cities for the flow of goods and services. This system led to the development of local dialects, costumes and village cultural distinctions.
Rosina spends the rest of her Link article showing how these paradigms apply to the different ways Palestinians and Israelis treat natural resources such as water, trees, and land. It is a fascinating exercise, and I encourage readers to go to our website and read pages 5-12 of her article. Her analysis is more relevant today than when she first presented it to that ADC audience back in 1993.
Which brings us to the Musht in the title of her article. It is a fish that swims in the Sea of Galilee, also called Christ's fish or Saint Peter's fish, and widely associated with the miracle of the loaves and fishes. It's also a dying fish. Rosina concludes her article with these words:
In the end, saving the Musht may not be anyone's priority. But sometimes, a small seemingly insignificant species acts as an indicator of the state of the environment. If it ceases to exist, a chain reaction ripples through the land.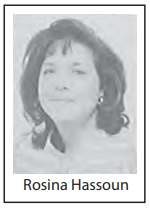 The Musht may be sending us a warning that ecological collapse could come rapidly or sneak up slowly while everyone else is looking at other issues. While this generation of Arabs and Israelis fight over and negotiate the land, the environmental consequences of their actions may be destroying the very thing they both covet.
Update: Fishing stocks have continued to diminish in the Sea of Galilee due to overfishing and to a virus that infected the Musht. This led to a ban in April 2010 of commercial and recreational fishing in nesting and spawning grounds of the Musht.
Meanwhile Rosina, a doctoral student when she first sounded the alarm, has gone on to receive her PhD in Anthropology from Florida University, and is currently an Assistant Professor of Anthropology at Saginaw Valley State University.

"When War Criminals Walk Free," by Mads Gilbert, M.D.
Volume 45, Issue 5, December, 2012

Mads Gilbert heads the Clinic of Emergency Medicine at University Hospital of North Norway.  In 2009, he was one of two foreign doctors in al-Shifa Hospital during Israel's Operation Cast Lead assault on Gaza.  "We waded in death, blood and amputated limbs," he wrote in his Link article, noting that, far too often, the victims were children. Two of these children he wants us to get to know: Jumana and Amal.
We meet Jumana, a nine-month-old girl, lying on her back, almost unarousable following anesthesia, most of her left hand is amputated.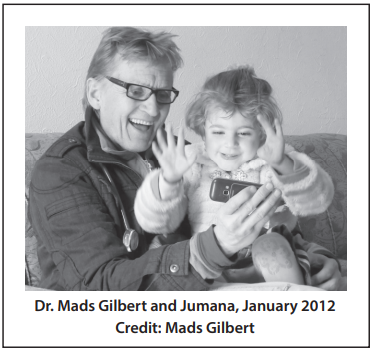 A nurse tells Dr. Gilbert the tiny girl was a member of the Samuni family from the impoverished quarters of al-Zaitoun in the southern outskirts of Gaza City. Another nurse adds that Israeli ground forces had herded about a hundred members of the extended family, including women, children and elderly into a warehouse, where they stayed overnight without food or drink. The next morning, Israeli forces bombed the building.
Gilbert doubted it. But it was true. An investigation into the massacre would confirm that soldiers from the Israeli armed forces had systematically planned and executed the killing of 21 members of the Samuni family. Jumana was one of the youngest survivors.
For three days following the shelling, the casualties were trapped in the destroyed warehouse along with the dead bodies. Only then did the Israelis allow rescue services to enter the building. One of those casualties was Amal Samuni, a 9-year-old Palestinian schoolgirl and Jumana's cousin. Like Jumana, she had been forced into the warehouse with her father, mother and siblings. At one point, when her father and smallest brother opened the door to face the Israeli soldiers to tell them, in Hebrew, that the building was filled only with civilians, women and children, both were shot dead at close range.
It was during the early morning shelling that Amal was hit by something on her head. When the solders allowed her to go, she was rushed to al-Shifa Hospital where Dr. Gilbert cared for her. Her lips were cracked and dried, and her body severely dehydrated, and she looked more like an old lady than a young schoolgirl. But she survived.
After the wounded were evacuated, the army demolished the building with the dead bodies inside. It was only possible to remove them from under the debris after the army withdrew, some two weeks later.
But, before they withdrew, the soldiers scrawled their mission with graffiti on the walls of the Samuni family home, some in Hebrew, many in crude English: "Arabs need 2 die", "Die you all", "Make war not peace", "1 is down, 999,999 to go", "The Only Good Arab is a Dead Arab."
The warehouse massacre cost the lives of at least 26 members of the Samuni family, including 10 children and seven women. The Israeli Army later concluded in its "investigation" that the killing of civilians "who did not take part in the fighting" was not done knowingly and directly, or out of haste and negligence "in a manner that would indicate criminal responsibility."
Three years after the massacre — it was New Year's 2012 — Dr. Gilbert returned to Gaza to see how his patients were doing, especially Jumana and Amal. Jumana, then going on four, was managing well with her two-fingered left hand. And Amal, 12, was doing well in school, although she has terrible headaches. Dr. Gilbert tells their family he is going on another speaking tour to U.S. and Canadian universities, and he asks what they would like him to say. One of the adults replied: "Tell them this: Your tax money is killing our people!"
Update: In October 2014, on his annual medical visit to Gaza, Dr. Gilbert was stopped at the Israeli Erez checkpoint and banned indefinitely from entering Gaza. The reason: He posed a "security risk."

Zionism: What Is It?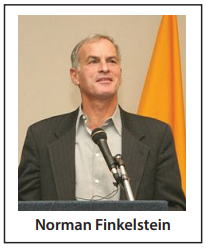 The Lydda Death March, the bombing of Iraqi synagogues, the poisoning of Palestinian wells, the corralling of Bedouin Arabs, the gassing of Beit Jala school children, the bias against Palestinian farmers, the ecological scarring of a fertile land, the massacre in Gaza, the bias, here in the U.S. against telling the Palestinian side of the story — this is the legacy of Zionism.
Google defines Zionism as a movement originally for the re-establishment and now for the development and protection of a Jewish nation in what is now Israel.
Norman Finkelstein received his doctoral degree from Princeton University for his dissertation "The Theory of Zionism." In his Link article for December 1992 he distinguishes two basic types of nationalism: liberal nationalism with roots in the French Revolution and ethnic nationalism with roots in German Romanticism.
Liberal nationalism has as its main pillar the citizen: the state is constituted by its citizens and between citizens is complete legal equality. Romantic nationalism's main pillar is the ethnic nation: each state belongs to a particular ethnic nation, and the latter occupies a privileged position in the state.
Historians, according to Finkelstein, generally agree on the Germanic origins of Zionism. He cites the Israeli historian Anita Shapiro who writes "It was the Romantic-exclusivist brand of nationalism that contained certain ideas able to function as a basis for an elaborated notion of a Jewish nation and national movement."
It was also the Germanic notions of nationalism that culminated in Nazism. Revealingly, the only Jews for whom Hitler reserved any praise in "Mein Kampf" were the Zionists, whose affirmation of the national character of the Jew conceded the central Nazi tenet that, not withstanding his citizenship, the Jew is no German.
The Romantic essence of the Israeli state, according to Finkelstein, was reaffirmed in 1989 by a High Court decision that any political party which advocated complete equality between Jew and Arab can be barred from fielding candidates in an election. And, more recently, in 2018, the Israeli Knesset approved the 'nation-state' bill that promotes Jewish-only settlements, downgrades Arab language status and limits the right to self-determination to Jews only.

Criticism of Zionism: Is It Anti-Semitic?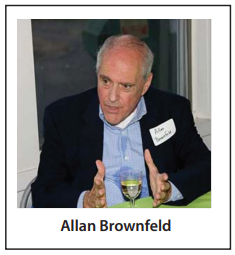 This is the question posed by Allan Brownfeld in our December 2017 Link. He notes that, for many years now, there has been a concerted effort to redefine "anti-Semitism" from its traditional meaning of hatred of Jews and Judaism, to criticism of Israel and opposition to Zionism. Brownfeld, the editor of ISSUES, the quarterly journal of the American Council for Judaism, devotes much of his Link article to reviewing the long history of Jewish criticism of Zionism. It includes:
In 1919, in response to Britain's Balfour Declaration calling for a "Jewish homeland" in Palestine, a petition was presented to President Wilson entitled "A Statement to the Peace Conference." It rejected Jewish nationalism and held against the founding of any state upon the basis of religion and/or race. Among its prominent Jewish signers were Jesse L. Straus, co-owner of Macy's ,and Adolph Ochs, publisher of The New York Times.
In 1938, alluding to Nazism, Albert Einstein warned an audience of Zionist activists against the temptation to create a state imbued with "a narrow nationalism within our own ranks."
In May 1948, in the midst of the hostilities that broke out after Israel unilaterally declared independence, Martin Buber despaired, "This sort of Zionism blasphemes the name of Zion; it is nothing more than one of the crude forms of nationalism."
In his 1973 book "Israel: A Colonial-Settler State," the French Jewish historian Maxime Rodinson wrote: "Wanting to create a purely Jewish or predominately Jewish state in Arab Palestine in the 20th century could not help but lead to a colonial-type situation and the development of a racist state of mind, and in the final analysis to a military confrontation."
Brownfeld concludes that there is no historic basis for claiming that anti-Zionism is a form of anti-Semitism, and that the only purpose in making such a charge is to silence criticism of Israel and its policies.
To be sure, anti-Semitism exists and should be confronted whenever it raises its ugly head; but legitimate criticism of a colonial-settler movement is not anti-Semitism.

What Is Christian Zionism?

Christian Zionism is the belief of some Christians that the return of Jesus to the Promised Land is a sign of Christ's immanent Second Coming, when true Christians will be raptured in the air, while the rest of mankind is slaughtered; 144,000 Jews will bow down before Christ and be saved, but the rest of Jewry will perish. Politically, they represent a significant bloc, with a potential 40 million followers in the U.S. and 70 million worldwide. Two Link issues offer insight into these believers:
"Christian Zionism" (November 1983) by O. Kelly Ingram, professor at the Divinity School of Duke University. This issue traces the roots of Christian Zionism back to 17th century England, and shows the influence it had on the signers of the Balfour Declaration.
"Beyond Armageddon" (October-November 1992) by Donald Wagner, then Director of Middle East Programs for Mercy Corps International. Wagner documents the growing influence of Christian Zionism among U.S. televangelists.

What Did The U.N. General Assembly Say About Zionism?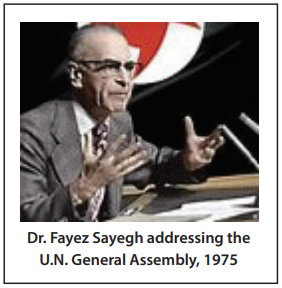 U.N. General Assembly Resolution 3379 determined that Zionism is a form of racism and racial discrimination. The resolution was based on four statements delivered to the General Assembly by Dr. Fayez Sayegh, a Palestinian intellectual employed by Kuwait. His 52-page documentation is available and downloadable on our website under AMEU Publications.
While working with Dr. Sayegh on editing his manuscript, I asked him what, apart from not being allowed to return to his homeland, was the hardest part of his exile. He thought for a moment, then replied: "The fact that my children don't speak Arabic."
In 1991, when Israel made revocation of Resolution 3379 a precondition of its entering the Madrid Peace Conference, the U.N., under fierce pressure from the U.S., complied.

To Conclude:
Many are responsible for AMEU's Archive.
I think of the Rev. Humphrey Walz, a Presbyterian minister, who edited The Link for its first two years. After WWII Humphrey worked in New York for the resettlement of Jewish survivors of the Holocaust then, following 1948, he aided in the resettlement of Palestinian refugees.
I think of Grace Halsell, an acclaimed journalist, whose Journey to Jerusalem was one of the first books by a mainstream American journalist to report on what the Palestinians call their Catastrophe. Grace would go on to write four feature articles for The Link, and serve on AMEU's Board of Directors for 18 years, until her death in 2000.

I think of Bob Norberg, the president of AMEU from 2005 to 2015. During that time he created AMEU's website, and its digital archive going back to 1968. And today, each new issue of The Link is posted online by his son Jeffrey Norberg.

I think of Jane Adas, AMEU's current president. In 1991, I received a postcard, signed "Jane Adas," with the one sentence: "If you can use volunteer help, I'd be happy to come in a day each week." Jane, it turned out, was Prof. Jane Adas of Rutgers University, one of the most knowledgeable people I know on the Palestine question. Five times she has put her body where her words are by spending three to nine week stints in Hebron with the Christian Peacemaker Teams, where she stood between Palestinians who live there and Jewish settlers who harass them in an attempt to steal more of their land. In 2001, she wrote a Link issue on her Hebron experience, "Inside H-2." In 2009, Jane was one of the first Americans to get inside Gaza to see the devastation wrought by Israel's Operation Cast Lead; see her 2009 Link article "Spinning Cast Lead." Today, in addition to being AMEU's third president, she is the proofreader par excellence of every Link issue. Never has a postcard heralded such a treasure.

When I was in high school, I read a book on the Holocaust. What I mostly recall is a comment by a woman survivor of Auschwitz who said that what pained her most deeply was the thought that nobody outside the camp would ever know the hell they were going through — much less care.

My hope is that Palestinians will see our Archive as a witness to their Catastrophe: that their suffering is known — and that we do care. ■
Welcome Nicholas Griffin

It is with the greatest pleasure that A.M.E.U. welcomes Nicholas Griffin as its next Executive Director.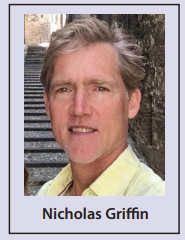 Nicholas is an independent consultant who has worked with the U.N. Department of Public Information, the American University in Cairo, Youth Recreational Facilities in the West Bank, as well as projects in Algeria, Ghana, Jordan, Morocco, and Niger.

He is a long-time supporter of A.M.E.U. and well acquainted with our institutional goals. Along with publishing and editorial experience, he brings a firm grasp of the digital age, its opportunities and challenges.

When I became executive director, some 43 years ago, someone told me: "Remember, in your job, as in life, money isn't everything. But," he was quick to add, "it is way ahead of whatever comes third." I told Nick we had a loyal band of donors that he could count on as he leads AMEU into a future of better Middle East Understanding.
---
---
By Rawan Yaghi
w a v e s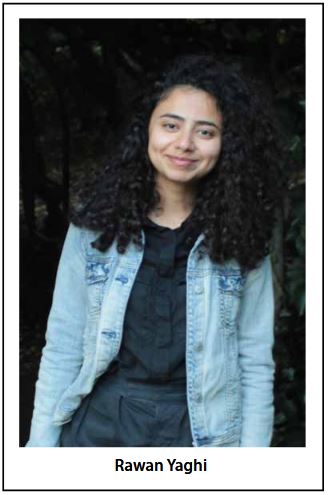 The waves were high enough to swallow the whole city. He stood there and stared at them with his lazy heavy eyelids. It did not matter if the waves crashed on top of his small body. That image stirred nothing inside him.

As the wave progressed in that empty space and time, it seemed like he was watching a screen in the large blue wall that marched against the city.

He looked at himself in the wave, still a boy of five, intently listening to the incessant explosions all around his neighborhood. They marched closer and closer every hour. His mother's worry was very obvious to him though she tried to hide it. Every time the sound went louder, she looked at his father imploringly.

"We have to leave. Now." Ahmed heard her tell his father in their bedroom.

"Where do you want us to go? They're bombing everywhere. We can't be safer than in our own home. They will bomb us the moment we step out the door."

It went on like that for three days. He was forbidden from going out of the house to play with his neighbors. He was not allowed to look out the window. Sometimes, going to the bathroom alone seemed like a dangerous undertaking.

"Mum, are there people in the planes?"

She stared at him for a moment. How to explain murder to a five-year-old?

"Nobody, habibi. Nobody at all."

"But the radio guy says they are Israeli military planes. Does that mean there are Israelis or military in them? What's military?"


She sighed and shifted over a few inches towards him, wrapping him with her arms. "Nobody is in the planes, hamoody. They're just not working properly and they're trying to fix them."

His muscles relax as she tightened her arms around him pulling him closer to her chest and letting his face rest between her neck and collarbone.
* * *Seven years later, that image of her was so clear in the wave. It was so beautiful that the wave coming to crush his bones was all he wanted. He wanted it to stop there. He did not want his memory to recall anything else that happened after that.
* * *
Two days after that day, the explosions were very loud, and they could hear machine guns firing all through the night and day. Sometimes, the waves of gunshots would sound for a whole hour. Ahmed's father paced to the door and back constantly. He prepared a broomstick on which he tied a white shirt. His father looked at his mother and asked her to forgive him. He had tried to call an ambulance or somebody to ensure they get out of the area safely, but his phone could not pick up any signal.

Three days later, A bullet came through the eastern window of the living room. So, they decided to move west to Ahmed's bedroom.

They were very careful. Nobody was allowed to stand up. They had gotten used to crawling to the bathroom which was the only place they allowed themselves to go to.

Nearly the whole time, Ahmed stuck by his mother's side. He only slept between her arms which clutched to his bones harder that night. His father lay right next to her and held her hand which was above Ahmed's shoulder. They lay like that the whole night. Ahmed would nod off for a few minutes only to be woken up by another stream of bullets crashing into his ears with the explosions that followed. The time was a mixture of day and night that took turns every hour or so.

He did not know how much time passed before an ambulance came. They banged at the door asking if anybody was inside. His father hesitated for a moment, not sure whether to believe they were actual paramedics or not. He could not risk letting them go. After he shouted back saying they should prove they were Palestinian, a man shouted his own name and where he came from. Ahmed's father rushed to the door and opened it.

Ahmed was trying to shake his mother awake but she wouldn't move a muscle. The paramedics hurriedly checked her body and said that there was no room, that she had to stay there. Ahmed held on to her and screamed that they can't leave her there. His father carried him by the waist as he kicked the air, writhing furiously to release himself from his father's grip.

His father turned from his mother's body and headed to the door. The paramedics told them to wait a second at the door. Ahmed was still trying to get out of his father's arms when the scene outside hit his father. There were a few houses which were still standing but most of the neighborhood was just unrecognisable piles of rubble. He did not know where he was and, for a moment, he was going to let go of his grip around his son's waist. There was a sound of a helicopter somewhere, but he didn't have time to process where it was.

"Get the fuck in," the paramedic's voice sounded like it was echoing from beyond a mountain. Still screaming, the paramedic ran to the father's frozen body and started dragging him to the back door of the ambulance. "Get in," he finally implored him. Ahmed was still kicking which eventually woke his father up from his stupor and made him climb into the ambulance. The paramedic got in and closed the door behind him shouting at the driver to go.

Inside, Ahmed kept screaming, kicking and punching his father's chest when his father started crying trying to keep Ahmed in his embrace. The paramedic finally gave Ahmed a tranquiliser shot after which he gradually calmed down and fell asleep.
* * *
Under the midday sun, the sea glittered like a golden necklace.

The car moved along the beach. Sometimes the waves were very blue and sometimes you could see the waves heavy with bright plasticky weed. Sometimes his mum sang along with the old song that played out of the speakers installed on the car doors. He remembers her voice, so melodic, easily dancing with the music and following the voice of the singer in the speakers, sometimes forgetting the lyrics and humming along. His dad listened intently too and though he rarely spoke, Ahmed could tell he was enjoying the music and his mother's singing with it.

He could barely remember the waves looking so clean and he could barely remember his mum. It is as if they were never there. He wondered sometimes, if he was imagining this: being driven in the car by his father along the beach. Were the waves really that clean? Did he really pay attention to their color being so young a child? And how did he remember the song his mum sang along with?

"A thousand nights and one night," the line kept repeating and repeating until he got bored and begged for it to be changed. Only for his mum to laugh at his impatience and tell him that "one day, you will like this song."
* * *
Whether he loved the song or absolutely hated it, is still undecided. The song could grab him out of anywhere and push her into his memory. He would be sitting in a cab, on the beach, in the street, in his room. And the song would seep from a radio or a phone and take him away. A few minutes later, he'd come back to where he was, feeling like he was away for hours, wondering if a whole day had gone by.

He couldn't take it anymore. The song and the sunlight reflecting on the waves made him feel like he was about to lose the tray he was selling snacks off. He dropped it and ran east. He kept running for an hour, passing through the paved streets, the clothes market downtown and the food market a little bit further. He ran, with nobody minding him. He could not see anyone around him. He was knocked down a couple of times, hitting men who came out of nowhere. He would immediately get up and continue the run. It seemed like he did not see much beyond where his feet were going.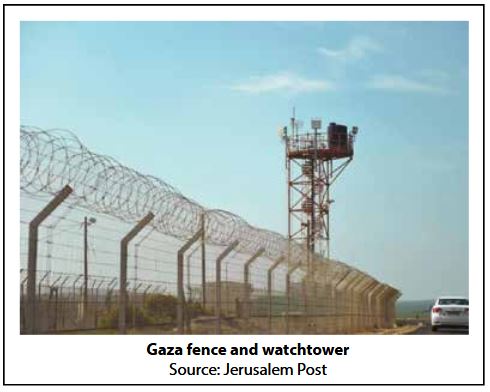 His run across the city felt less than a few minutes long. He did not notice the change of scene. The barbed wire and the fence a few hundred metres away have replaced the waves that pulled and pushed on the sand. He realized that he had been running for more than an hour because the sun was setting and the clear sky was colored in various hues of pink and red.

His heart pounded fast. He wanted to keep running to the fence, but he felt very tired. It was so quiet there that he thought he could hear his veins throbbing in his head. He looked for the watch towers. He felt very visible when in reality he was very small in the distance.

The sand stretched all around him. Fields of tomatoes and okra were growing behind him and a few houses could be seen from where he was standing. Behind the fence, an endless sea of green stood in hills that resembled the waves he had just run away from. The crashing noise came back. The large wave seemed to catch up with him again.

Ahmed started running towards the fence. This time, his run felt like a lifetime.
Historical context:
This is a story about living in Gaza with Post Traumatic Stress Disorder (PTSD), which affects a large number of Gazan children.
PTSD is more than the immediate experience of trauma: it is also about the incessant fear precluding any way to release it. There is no safe space, physically or spiritually, under the Israeli siege.

This story is about not finding an escape, about having a disordered perception of time, having to work as a child, having to live with pain and memories from a very young age.

It is also about the feelings of being trapped inside a physical space and not being able to escape that too.

Ahmed, the young character, is struggling with these difficulties, and physical running helps him release some of that pain. However, there is only so long a distance he is able to cross physically.

One study has found that half of Gaza's youth aged 15-18 experience PTSD, and that the violence is exacerbated by the children's proximity to the fighting: some two million people living in a 141 square mile area, with no safe area for escape.

The story also explores nature as a means of escape — but also as a memory trigger. The sea being a large part of where people in Gaza go in order to find some relief, is not a source of relief any more having been polluted by years of damage to infrastructure. The restrictions on how much petrol enters Gaza (via Israel) affects how many hours of electricity sewage treatment plants get to operate. This, in turn, influences the kind of water and waste being dumped into the sea of Gaza.

For years now, large areas of he sea have been deemed too polluted to swim in. The waves in this story are of many kinds, sea waves which trigger memories of explosions and gunfire, and waves of memories, memories of loved ones and of trauma.
t h e w a i t
She drifted off to her mother's bedroom 20 years back. A girl of 12 years old, she stared quizzically at her mother who was looking at her own pale skin in the mirror. Her mother had a bandana over her head and she had acquired a habit of pulling it over her forehead as if she was always afraid of it falling off.

"Mama, why are you sad?" she asked imploringly.

"I'm not sad, darling. I'm just tired."

She didn't believe her mother. It was a secret she was not supposed to know: her mother was sick. But she had no conception of the idea of death by illness. She had heard of people dying of old age, of missiles hitting their homes or cars, or of sniper bullets.

Her memory fast-forwarded to the hospital with her mother lying breathlessly on a bed. The memory suffocated her just as the room did back then with its two rows of beds. She stared at the other patients in the room as they either talked incessantly or slept heavily while their visitors talked incessantly. The pain showed on her mother's face and she stood there watching her as her father tried to throw words of encouragement at her mother.

"Inshallah you will be ok. Just be patient and Allah will reward you."

It all meant very little to her at the time and she still did not comprehend her mother's fate or the true reasons that led to it.

"Um Aahed?" The doctor's voice pulled her out of that hospital room. "Did you understand what I just told you? You needn't worry at this point. It is still manageable if you receive the right treatment."

His voice pierced into her temples as she stood up and walked out of the room to the hallway. There, she ran to a trashcan and threw up in it. Only when Abu Aahed put his hand on her shoulder did she

remember he was there. He handed her a tissue for her mouth and helped her wipe off some of the vomit on her scarf. Standing in the hallway, they looked into each other's eyes as if to send each other secret messages.

"Inshallah, you will be ok."

She was back by her mother's bed, small and watchful. In the living room, her father was on the phone begging somebody to let him speak to an official.

"She is dying, for God's sake," He snapped into the microphone. "She missed her treatment six months ago. Every month, you tell me to call you the next month. We've been waiting for nine months now…I don't care what is going on outside." He screamed the last part and then she couldn't hear him anymore.

Um Aahed, whose name was Heba before she had her first son Aahed, was starting to be aware of grown up conversations which children are not meant to be listening to. She remembered the few times she heard her mother sob behind her closed bedroom door. And she once caught her father in a similar state, sitting alone in the living room with red eyes and a tissue which he pulled to his nose and eyes every three seconds. She remembered walking to him slowly, sitting in his lap, and hugging him. It felt, at the time, that he was hanging on to her smaller body between his arms. He told her, then, that her mother was sick with a serious illness called breast cancer and that she is getting worse because they couldn't get her treatment in time. He told her this while wiping his nose and sometimes swallowing his sobs into his chest and sometimes not being able to hold them back. She watched him silently and then ran to her room where she banged the door and started imagining the world without her mother.

It felt lonely. And she felt so sorry for her mother. She did not know what it was like to be dying like that, so slowly, at the mercy of pieces of paper. And she watched her parents go on trips to the hospital. And she saw her father get more and more angry every day. Her mother seemed quieter but she was still making time for her. It was an amazing thing to climb into her mother's bed after a day at school and tell her about the latest adventures she had on the way to and from school.

"Today, some of the girls decided to throw stones at the boys who harassed us last week. You should have seen how scared they were. They ran off like chickens."

"Did you throw stones with them?"

"Just small stones. The big ones were too heavy. We had to throw them pretty far."

"Were you happy doing that?"

It took Heba a minute to think about her answer. She didn't know which one would disappoint her mother.

"Yeah, it was fun. But I was a little bit scared because some of the boys looked big."

"I want you to be careful. But I'm proud of you for standing up for yourself. And don't forget to tell dad if anybody harasses you in the street again."

It worried Heba that it was all a lie. That it was true some girls threw stones at the boys but that she was not one of those girls. She was too careful. The idea of pain and blood scared her, even when it was other people's.

"You will be ok," Abu Aahed repeated, holding her shoulders between his hands and gently nudging her out of her three second slumber.

His voice seeped into her heart and brought her mother's image to her again. Unable to hold them back, she let her sobs out and buried her face in his chest, letting it absorb the shocks that burst out of her mouth.
Historical Context:
The restriction of movement has a huge role in determining people's lives in Gaza on many levels. Sometimes this means not being able to see relatives for years and years. Sometimes, it means losing job or study opportunities abroad. Sometimes, it means losing one's life.

Cancer treatment supplies and equipment, like most medicines and treatments, have to be let into Gaza via Israel. Since the Israeli military controls everything that comes into the Strip, Palestinians have to adhere to the military's decisions of what Palestinians in Gaza are worthy of having.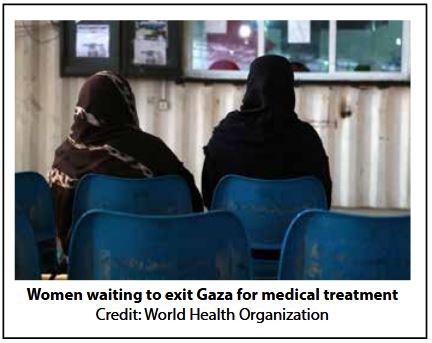 Accordingly, cancer patients live at the mercy of military permits — be it in terms of when the chemotherapy would be available in Gaza or when the cancer patients themselves are allowed to access other kinds of therapy, e.g. radiotherapy in Jerusalem. Patients have to go outside of Gaza as radiotherapy equipment has been blocked from entering the Strip by the Israeli military for years. Patients can go to either Israel or Egypt for such treatment.

This means they have to endure a long wait in order to receive permits to cross the Erez checkpoint and be allowed into Jerusalem. This wait can take up to nine months for a response which could be an approval or denial of such permit. Many patients' treatment has to be delayed as a result and this means that the degree of cancer becomes more severe.
Even when granted permission, the journey is very painful as patients are allowed one caretaker. This means that, for a month or more, the patient is not able to see other family members or friends, even immediate family members. Sometimes, children have been "allowed" through Erez to receive medical treatment in Israel, while their parents were blocked. But in a lot of other cases, patients are not even given a response to their 'permit application.'

This is not new. Palestinians from Gaza have always been made dependent on Israel for all sorts of medical needs and equipment passage. Even though most of this is provided by aid and donations from other entities, it is Israel that decides when and what comes in. Therefore, this has always been an issue in Gaza, though made more severe by the more recent economic and military siege imposed as a means of collective punishment.

This story is about when a woman is told she has breast cancer. Along with the stress that cancer universally comes with, this woman has to deal with two issues: the traumatic experience of losing her mother to the same illness as a child, and the fear of having to go through the same agony and fate which her mother suffered.

This story is inspired by a real story which took place in Gaza, and is representative of thousands more.

s t a l e
The air is stale.

It's stale everywhere, my room, the living room, the kitchen, the street, the square, the beach. Breathing is stale.

Yesterday, I lay in bed for hours, devising a plan to fix my fucked-up life. I've thought about selling coffee on the beach, to make a few shekels and save a few to travel somewhere where the air tastes fresh and where I could have a more decent job, maybe something related to my degree. Until then I have to buy food and contribute a small amount to the house bills. Making the profit of 30 shekels a day considering at least 20 people still want coffee from one of the one hundred moving cafes stationed all over the beach. [30 shekels is approximately $8.40 — Ed.]

I'd have to borrow a couple hundred shekels to build a decent cart and buy an initial supply of coffee and other hot beverages. So I'd be paying debt for at least seven months. And then I'd have to work another 9 or 10 months in order to save enough money to acquire a passport. After that, I'd have to sell these stupid beverages another six years at least, in order to save enough money for a border bribe. Well I could hire a boy to do the job and I could find another source of income. I don't know… I guess I could find work somewhere, in a restaurant or as a builder. But where. This place is like a still lake. Nothing is moving.

I could borrow the money to pay the bribe and travel and then pay this person back once I got a job somewhere. What an idiot. Who would lend me this much money.

I should get out of here.
* * *
Basel walked out of his room into the hallway. The three-bedroom apartment was dark, and his father's snoring was heard coming from the room at the end of the hallway. He went to the kitchen and poured himself a glass of water from a yellow gallon that was parked next to the sink. Standing there for a moment, he thought the whole world paused in that stillness of the night. There were very few lights outside the window. He could not place a single movement save the rising and falling of his father's snores which were pretty harmonious with the drone that was loudly buzzing in the sky.

"I should get out of here," he thought again and walked out of the kitchen leaving his glass next to the sink. He turned the key slowly and listened to the door screech as its hinges slowly turned against each other.

The street was deserted. "Everyone is asleep, making love, studying maybe, chatting with a lover in secret, wandering in their brains like me," he thought as he looked up at the dark windows. Some had light inside and he wished he could go there, knock on the door and ask the person inside why they were awake, what they were doing, what was so important to keep them from sleeping. He laughed at the thought. For a moment his laughter choked him as a tear welled in his eye.

He walked, as if drunk, through his empty neighborhood. He seemed to be going nowhere as his feet carried him west. The trees arched over the street meeting from both sides to form gates of leaves which directed his way out of the city.

The waves thundered in the dark as the air stung his cheeks and nose, bringing the heavy sewage odor to his nostrils.

"When did I get here?" he asked himself, realizing that he had arrived at a dead end. The moonlit sand stretched to his left and right. The winter wind had chased everyone from the normally busy beach. Even the coffee carts were deserted. There were a few fires lit up on the corniche but they looked so vastly spread across the line that he questioned their existence.

He stood there, alone, waiting for his body to move, to turn around and go home. But it stiffened, as he stared into the waves reaching for him and pulling back into the stretching blackness in the far distance to the west.
* * *
"I don't know, man. Turkey seems to be a good place to go.

"It's really bad pay there, though. How long do we have to work before we can save enough money to go some place else."

"I don't know. A year or two.

"And then what? What do we do after that?"

"We go to Europe."
"What for?"

"I don't know man. Get a decent job. Have a life."

"You're really that naïve. You think they're going to welcome us with open arms?"

"Why not. We both have excellent degrees. Why shouldn't they welcome us with open arms?"

"Because we're not European."

"Why are you so pessimistic?"

"Look at all the ones who are already there. Dragged from one center to the other like prisoners. Fighting to be recognized as human beings. Begging to be kept in the country while working shit jobs. Can't you see? If you don't have money, you're nothing."

"That's not true. They value humans there."

Basel sniggered and then, repeating the words to himself, started laughing in hysteria at the proposition his friend Rami made.

"We have no value anywhere. Can't you see? If our life is not worth a dime in our own country, where would it have value? See that drone? The person operating it has more value than you do. That criminal who is willing to kill us both, deserves a better life than we do."

"God, man, can you hear yourself? You're complicating things. Once we're out of here, there will be a lot of possibilities for us."

"I don't think so. Whatever possibilities there are, it's not worth all the humiliation we have to go through to get to them."

"Yes, they are. We need a home. We need a home other than the one they've ruined. I can't live here anymore man. I can't stand it."

"I'd rather kill myself here than go to Europe and beg to be recognized as a human."

"You don't have to kill yourself. Here, they will eventually kill you or you will die bit by bit just breathing this smell."

They both laughed at that idea, sitting at a beach cafe near the port. Basel looked at the sewage pump which was vomiting brown water from under the rocks into the sea and imagined himself drowning in that water. The idea did not stir anything inside him and he momentarily felt like he was already being pushed down by the pressure of the brown sludge under the surface.
Historical Context:
The unemployment rate among young graduates reached 78% in Gaza in 2018. This is part of the economic and military siege that Israel has imposed on Gaza. It is also a result of the ongoing damage to infrastructure, such as the destruction of factories and private businesses. And it is also a result of the Palestinian political division which affects the work of civil societies in Gaza.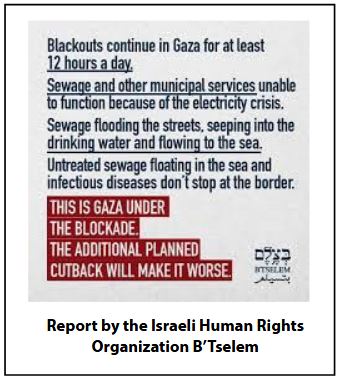 Along with other stressors, this affects the mental health of young people. A lot of young people seek immigration options because they do not see a livable future in Gaza. The trauma, physical danger, topped with economic difficulty all drive them to leave. But the process of leaving and finding a place to start a new life is very stressful and a lot of young people fall into mental health crises, a state of static detachment, just trying to think about it.

Stale is about that feeling of suffocation that a lot of young people have in Gaza. Because Gaza has been made what it is now, a prison, the air feels stale. It feels like Gaza has no outlets and that even the air does not move.

Even though there are strong social networks that can provide a lot of emotional support, the situation is getting worse for young people because it starts to affect their view of who they are as individuals in a conservative society, while at the same time being exposed to the rest of the world through social media.

Basel represents a large portion of young Palestinians living in Gaza. He is cynical and skeptical of any good in the world. He sees no point in emigrating to another country because he does not believe that his life will be valued anywhere in the world.

The story highlights the sea as a point of refuge, again. It is the only natural relief for Gaza's two million inhabitants.

However, it is also another source of frustration, given it is extremely polluted, aggravating the state of mental health for young people. Even though most young people in Gaza are proactive and are continually looking for solutions, the situation is constantly getting worse and means of emotional release are becoming fewer and fewer.

Stale does not try to offer solutions to a forced economic situation. It just gives an example of how having very few choices in life can affect a young person's view of the world.
m u s t m y o f f s p r i n g
I haven't left my room in three days. Maybe if I starve myself, I might also starve the fetus to death.

I think of this baby growing inside me. Sometimes, I imagine it growing up in this place and cursing me for what I've done to it.

All my life I wondered how people bring children to the world. I asked my parents so many times why they brought me here.

"What do you mean why did we bring you to the world?" my father would say with a big smile on his face. "We were so excited when you were born. You were the light in our life. We were scared to pieces of course. Your mother, poor thing, cried when the nurse told her you were a girl." He would laugh when he told the part about my mother crying.

My mother had a different way of avoiding my question. She would turn it into a joke, pretending that bringing me into the world was an investment project that went tragically wrong when I turned 5 and told them I wanted to be a belly dancer.

It really bothers me that they never give me a satisfying answer. I just want to hear them say that they had no choice, that I just came to their world, because it was just the way it is. I want to know how my mother really felt when she had me. I want to know what significance I had in their world and if it was really worth it bringing me here.

Anyway, it does not matter now. I'm doing the same thing. I love Raed. But I don't think that means I want to have a child with him. What does the baby have to do with it? What will the child say in a few years' time when it sees what kind of world I've brought it to? If only I can go back a couple of weeks. No, a couple of years. Unmeet Raed. Cancel his parents' visit to see my parents. Cancel the wedding. Cancel our bedroom. Cancel sex. Cancel these fucking pills. I do love him.
"And must my offspring languish in my sight?"

I can't shake this line out of my head. I remember when Dr. Mahmoud introduced us to Wordsworth. How enchanted I was by his words. Reading the words loudly to myself always carried me to another state of existence. It used to be so easy to pretend things were ok. To carry myself out of this place with the words. Now the words haunt me and condemn me. Must they languish in my sight?

Whatever HOPE and JOY, this child will never feel them here. Whatever I once felt in my childhood will be lost when it arrives. Once fed, loved, grown, it will realize there's little more to do in this place.

Last year, when our neighbor's house was bombed, and I felt my heart pounding with adrenalin, I told Raed that I never want another human to feel what I felt. I never want to be the cause of that.

In six months, I will be the cause of that, and God knows what else. This child will wonder the same things I have wondered. It will wonder why I brought it to this world, to this place.

"Alive to all a mother's pain…"

What did Wordsworth know about mothers' pain? I'm going to be sick…

Ya Allah. I wonder which is worse. Pregnancy sickness or this yellow seawater coming down the tap. This child will know nothing else. It will grow up with ears wired to drones and eyes adjusted to the dark rooms in the night. I can't have this baby. I want it out.

It feels like the world is spinning. I can't decide if it's because I haven't eaten in three days or because of the baby growing inside me, or both. The walls are going round and round. My feet can't stay put anymore. I want to reach the door and call for Raed. I want him to come and catch me before I fall. I want to reach the door.

Raed is sitting by one side of my bed and my mother is sitting by the other. There is a tube going into my arm. My hair is covered. I can't remember how they got me out of the bathroom. It feels like there is a ton of metal resting over my head. The rest of my body feels like it ran a marathon the day before. I reach for my forehead and feel a bump on it. Raed notices my movement and jumps to his feet and holds my hand.

"I was worried sick about you. Why didn't you tell me?" He whispers then kisses me on the cheek.

My mother gets up too and starts rebuking me for being irresponsible. I look at Raed and he understands.

"Come on, Khalto. Let's leave Samah to rest a bit. Let me buy you a coffee," he says to my mother in a moment of silence. She agrees and he gives her his elbow to rest on while she makes her way out of the curtain surrounding my bed and the two chairs around it.

A woman pokes her head into the curtain and asks if she could come in and then does so before I make any audible response. I feel like I've lost the ability to speak. She sits down and says that she heard my mother lecture me. She says she's pregnant with her second baby and that she is there because of some malnutrition complications.

"How old are you?" she asks.

I still feel unable to speak. So, I just stare at her face.

"I'm 28," she continues, 'I didn't want to have this child either. My husband lost his job recently. But it's God's will. This child has to be born."

I keep staring at her, wondering where she got that faith from. How she's not afraid for the life of that baby. And as if she could hear my thoughts she responds:

"Allah will provide for the baby. There is always a way."

But my brain is stuck on that six hundred and twentieth page of Wordsworth. "Must my offspring…"
And there my tongue moved, and my mouth said the word "Languish."

And before I can finish the last part of the line, the air is trapped in my throat and my eyes well with tears. My fists clench over the sheets and I turn my face the other side. I feel her hand touching mine and her voice comes to me softly.

"It will be ok."
Historical Context:
The situation in Gaza has been deteriorating since 1948. But the current siege, in which all aspects of life are deteriorating, has been going on for 12 years, the lifetime of a child born in 2007.

The fertility rate has gradually dropped over the last 20 years. This is most likely due to financial and political instability as well as introducing ways of contraceptives, albeit still not all possible options of contraceptives. Even though a lot of NGOs treat contraceptives as an important issue, it is not a priority given that the health system has more pressing issues to deal with.

In a related subject, abortion is illegal in Gaza unless the life of the mother is in danger. Doctors who perform abortions and are found out, lose their licenses and may get jailed. So, a lot of couples resort to abortion outside the health system which may or may not be successful and which puts the life of the mother in severe danger. In part, this is a story about women not having a choice in keeping or aborting a fetus.

This story is about bringing life to an unlivable place and how a woman grapples with that dilemma. In addition to the universal anxiety of brining a baby into the world at large, mothers in Gaza have the additional anxieties of economic and physical dangers. It is about the juxtaposition between family dynamics and the general situation in Gaza.

The love that Samah has for her child is so strong that she does not want it to live in such a difficult situation. She worries about its life before it arrives.

On the one hand, families can be a great form of support where the general situation in Gaza is stressful. They can be a real source of comfort and relief and children often grow up in tightly knit extended families which allows them to grow knowing they have a strong supportive network.

On the other hand, the ongoing human-caused trauma can be too much for various members in the family, especially if mental health is stigmatized in that family, as it often is in Gaza. And so, family members may feel alone because they are not able to exchange words about how they are feeling.

In this story, Samah does not only go through the trauma of witnessing a bombing of her neighbor's house, but she also fears passing that trauma on to her baby by bringing it into the world. She is also unable to communicate with her husband or parents about being pregnant because she is still in shock and still unable to accept it.

This is also a story about children being born into the siege in Gaza and spending most of their childhoods in that confined space. Most of these children are never able to leave the Gaza Strip and so they are born into trauma and live in an ongoing traumatic setting.

In part, this story is also about guilt. Even though Samah may want to be a mother, and even though she has no control over her environment or why she has polluted water or no electricity, or bombs falling in her neighborhood, she feels like it's her fault that her baby would have the life she has. This is partly about how the effects of colonialism can seep into the private lives and psychologies of victims.

Of course, life still goes on in Gaza and when children are born, they are loved by their parents who do all they can to provide at least healthy physical living standards for their children. Children, to our amazement, have amazing ways to find interest in their world. And Gaza's children are no different.
By Jonathan Cook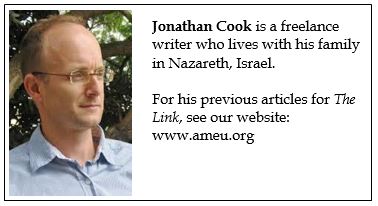 The only way Israelis can be made to sit up and take note of the disaster unfolding next door in Gaza, it seems, is when they fear the fallout may spill out of the tiny coastal enclave and engulf them too. Environmental experts from two Israeli universities issued a report in June warning that the imminent collapse of Gaza's water, sewage and electricity infrastructure would soon rebound on Israel.
Gideon Bromberg, the Israeli director of EcoPeace Middle East, which commissioned the report, told journalists: "Without urgent, vigorous action, plagues and infections will break out that could cost a great many lives, both in Israel and in Gaza, and no fence or Iron Dome [Israel's missile interception system] can thwart them." Israel's liberal Haaretz newspaper paraphrased another of Bromberg's comments: "If something isn't done, the upshot could be political horror in the form of hundreds of thousands of Gazans fleeing for their lives toward Israel – for fear of catching disease."
Bromberg and others on Israel's left are well aware that Gaza's 2 million Palestinians were long ago dehumanized in the eyes of most Israeli Jews, who think of them as nothing more than terrorists or terrorist sympathizers who deserve their sorry fate. Stories of Gaza's endless suffering a short distance from Israelis' homes are unlikely to shame them into action. They can be roused only out of self-interest – a fear for their own safety and the wellbeing of their loved ones.
Gaza's problems, however – the fact that it is one of the most densely populated, poorest and polluted places on the planet – are not an accident, or the consequences of some natural cataclysm. The crisis there is entirely man-made – and one that has been engineered over decades by Israel.
Israel effectively treated the Strip as a dumping ground – a holding pen – for the mass of refugees it created by dispossessing the Palestinians of their homeland in 1948. Nearly three-quarters of Gaza's inhabitants are descended from the refugees of that war, Palestinians who were forced off their lands in what is now Israel and denied the right ever to return to their homes.
Having exiled them, Israel was nonetheless prepared to use the Palestinians of Gaza as a cheap labor force – for a time. It was possible until the 1990s to exit Gaza relatively easily to work in Israel's dirtiest and lowest-paying jobs. But as the occupation entrenched, Israel was forced into a rethink by two developments.

Israel was forced into a rethink by two developments.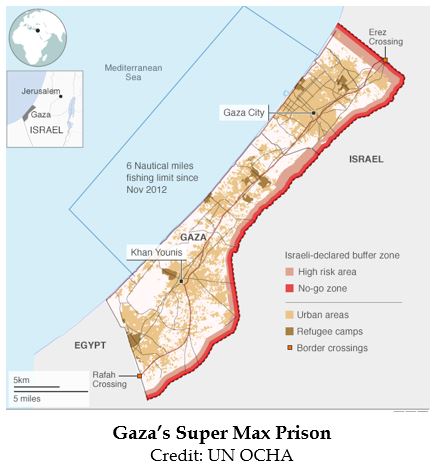 First, Palestinians under occupation, including in Gaza, launched a lengthy campaign of mass civil disobedience against their occupiers in the late 1980s, known as the first intifada, that included general strikes, a refusal to pay taxes, boycotts of Israeli goods and stone-throwing. And second, Gaza's population has grown exponentially, at a pace that outstripped the capacity of this tiny territory – measuring just 25 miles in length and some 5 miles across – to accommodate them.
In response, Israeli leaders pushed for a more clear-cut physical separation from Gaza. The rallying cry of politicians of the time was: "Us here, them over there."
Israel's out of sight, out of mind approach was soon given diplomatic sanction in the Oslo Accords of the mid-1990s. Israel surrounded Gaza with high-security fences and armed watchtowers, established an exclusion zone along its sea coast, and revoked the general exit policy.
Ariel Sharon's disengagement of 2005, when the last remaining Jewish settlers were pulled out of the enclave, marked the completion of Israel's separation policy. The occupation did not end, however. Israel still controlled Gaza's airspace, its land perimeters and coastal waters. Israel soon imposed a blockade, preventing goods as well as people from entering or leaving, a blockade it tightened dramatically when the Palestinian faction Hamas won elections in the occupied territories in 2006.
Since then, Israel has transformed the holding center into a super-max prison. This year it finished a submarine barrier with sophisticated sensor systems along the coast. Israel is currently enlarging the perimeter fence to make it 20 feet high and fortifying it with remotely controlled gun towers, while all-seeing drones patrol the skies above Gaza.
The first dire warning about conditions in Gaza was issued in 2015, a year after Israel's massive attack on the enclave known as Protective Edge, in which more than 2,200 Palestinians were killed, including over 550 children, and 17,000 families left homeless. A report by the United Nations Conference on Trade and Development (UNCTAD) argued that Gaza would be "uninhabitable" by 2020 if the trends then current continued. None of those trends has been halted or reversed. Which means Gaza is about to slide into a fully fledged humanitarian catastrophe entirely created by Israel, and implicitly supported by the silence and inaction of western states.
But while Israel has managed to keep the Palestinian inhabitants of Gaza cooped up like underfed and abused battery chickens, it is starting to find it is much harder to contain the various crises – social, economic, political and humanitarian – unfolding in the enclave. Slowly Israel is waking up to the fact that Palestinians don't behave like chickens.
Rockets, Kites, and Marches
Inevitably Gaza's inhabitants have reacted to Israel slowly tightening its chokehold on their enclave. But by the time of the Palestinians' second uprising, which began in late 2000, the kind of mass civil disobedience of the first intifada was no longer possible. By then, Gaza's population was imprisoned behind a fence. The factions, especially Hamas, instead tried to break free of their confinement by launching primitive Qassam rockets into Israel.
Largely ineffective as a weapon of death or destruction, the rockets have nonetheless spread fear in Israeli communities close to the enclave. But their use has had mostly negative repercussions for Gaza. Israel responded with extra-judicial executions of Palestinian leaders in Gaza that typically killed many more bystanders, and used the rockets to justify ever-more severe forms of collective punishment that culminated in the blockade. What little western sympathy there had been for Gaza drained away as Israel, assisted by the western media, edited out the context for the rockets – Gaza's imprisonment by its occupier – and presented a simplistic, ahistorical narrative of terror attacks on innocent Israelis driven, it was implied, only by the Jew hatred of Islamic extremists.
While popular support in Gaza for the rocket attacks has ebbed over time, Palestinians there have learned the hard way that they cannot afford passivity. As soon as the rockets fall silent, Israel and the world forget about Gaza. The west's hypocrisy has been plain: it condemns the inhabitants of Gaza for struggling against their imprisonment by firing rockets, but then ignores their plight when they play according to diplomatic rules.
Over the past year and a half, the rockets have been largely replaced by a couple of popular initiatives that were launched with two aims in mind: to make Gaza's suffering visible again, and to challenge Israeli and western prejudices about the enclave. Both initiatives mark a return to the type of mass civil disobedience exemplified by the first intifada, but recast for an era in which the Palestinians of Gaza have limited opportunities to confront their oppressor directly.
The first are incendiary kites and balloons – Israel inevitably adds the label "terror" to these balloons and kites – sent over the perimeter fence to set fire to the agricultural lands of the Israeli communities that prosper close by at Gaza's expense. The damage caused to Israel's local economy is intended to serve as a pale mirror of the massive economic destruction Israel has inflicted on Gaza's economy over many decades, including, as we shall see, to its farmland. The balloons are a way, like the rockets, to remind Israelis that Palestinians are suffering out of sight, on the other side of the fence, but do so without risking the civilian deaths entailed by the rockets' use.
The second popular initiative has been a weekly mass, largely non-violent protest, called the Great March of Return, close to the perimeter fence. The title is meant to remind observers that most Palestinians in Gaza are denied the right to return to the hundreds of villages their families were expelled from by Israel in 1948 and that are now located on the other side of the fence. Tens of thousands of marchers regularly defy Israeli restrictions that have declared hundreds of meters of Gaza's land inside the fence as a "no-go zone."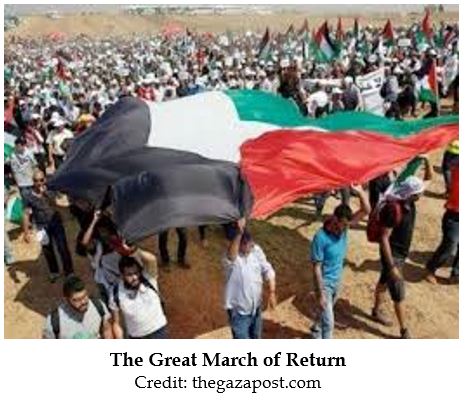 The protesters' goal is to ensure that Israel and the west cannot overlook Gaza's suffering and desperation, or shirk their responsibility for the catastrophe unfolding there, or continue to erase the deeper historical injustice caused by Israel when it dispossessed the Palestinians of their homeland in 1948. The protests are a potent reminder that this crime against the Palestinians has to be addressed before any lasting resolution of the Israeli-Palestinian conflict can occur.
Israeli officials have every reason to want the very opposite for Gaza. They need its suffering overlooked; the Palestinians there mute, or at least violent in ways that Israel can re-characterize as terrorism; and the historical injustices forgotten. They have therefore worked hard to suggest that the protests are not a natural expression of Gaza's anger, frustration and desperation in the face of a humanitarian catastrophe engineered by Israel, but a new, veiled terror strategy organized by Hamas. The marchers are not civilians, Israel argues, but hardcore Hamas activists who want to destroy Israel.
That has rationalized Israel's extremely violent response, with snipers using live fire against the protesters. Those shot include large numbers of children, wheelchairs users, as well as paramedics and journalists identifiable by their clothing. Israel has executed more than 200 protesters, nearly a quarter of them children. A further 32,000 have been injured – an average of 500 a week.
One of the investigators in a UN commission of inquiry into Israel's handling of the protests concluded that its military forces "have intentionally shot children, they've intentionally shot people with disabilities, they've intentionally shot journalists." That was confirmed in July when the Israeli media revealed that snipers had been ordered to routinely shoot the protesters in the upper leg, in an apparent effort to deter people from attending. This order continued even when it became clear that a significant proportion of those shot were dying from their wounds or needed a leg amputated. Only very belatedly did commanders order that protesters be shot in the ankle to reduce the number of deaths.
Zionism and the Logic of Settler Colonialism
Israelis' widespread indifference to the fate of Palestinians, most especially in the case of Gaza, is deeply entangled in the ideology Israel embodies. Zionism is viewed in much of the west simplistically: as purely a salvation movement, one that created a "lifeboat" for Jews – in the shape of Israel – at a time of profound need as the Nazi Holocaust ravaged large parts of European Jewry. But Zionism, in both its Christian and Jewish forms, long predates that genocide. Its roots are to be found in European settler colonial ideologies that emerged from the 17th century onwards.
Settler colonialism is markedly different from traditional colonialism. The latter, illustrated by Britain's relationship with India, is characterized by colonists arriving in another land to exploit the resources and labor of the native people. Whatever treasure was unearthed in the colonies – rubber, tea, tulips, sugar, diamonds, oil – was shipped back to the motherland, where it helped to support the lavish lifestyles of an elite. Great amounts of violence were needed to force the native population to submit. The colonists also tried to rationalize the resource grab, both to themselves and to the indigenous population, traditionally through religion and ideas of improvement – the "white man's burden." Colonists prospered until the native population found a way to expel them.
Settler colonialism, by contrast, has a different rationale – what scholars have termed the "logic of elimination." Settler societies are not there primarily to exploit the natives, though they may in part do that too for a time. They are there to replace them. And there are three possible routes by which that ambition can be achieved.
The first – what might be termed the Americas model – is to exterminate the natives, to wipe them out so there can be no local challenge to the settler colonial project. The second – what might be called the Israel model – is to ethnically cleanse the natives, to drive them out of the coveted territory to another place. And the third – what might be termed the South Africa model – is resorted to chiefly when it has not been possible to fully realize the first or second models. Apartheid regimes herd the natives out of sight into ghettoes – often called homelands, reservations or, in South Africa's case, Bantustans – where they can be largely ignored, deprived of their rights and access to resources.
Settler societies can adopt more than one model over time, or they may experiment with different models. In the United States, for example, settlers exterminated much of the Native American population and then drove the remnants into reservations. In South Africa, apartheid also required ethnically cleansing the black population from lands coveted by white settlers.
Israel too has adopted a mixed model. In 1948, and then again in 1967, it carried out mass ethnic cleansing operations. During the 1948 Nakba, literally catastrophe, Zionists expelled more than 80 per cent of Palestinians living inside the borders of what was about to become the Jewish state of Israel. Afterwards, Israel adopted a system of apartheid against the remnants of the native population, first inside its recognized borders (as I outlined in a previous edition of the Link) and later in the occupied territories.
In Israel today, some 93 per cent of territory has been "nationalized" exclusively by the state on behalf of Jewish people around the world, while Palestinian "citizens," a fifth of Israel's population, have been penned into little more than 2 per cent of Israeli territory. In the occupied territories, meanwhile, the settlers have directly seized 42 per cent of the West Bank for themselves, while the Israeli government directly controls more than 60 per cent of the territory, what was declared "Area C" in the Oslo Accords.
Israel's Monstrous Vision
Ethnic cleansing and apartheid have been the mainstays of Israel's approach to the Palestinians inside Israel, in the West Bank and in East Jerusalem. But over the past 15 years its policy towards Gaza appears to have moved in an additional direction – towards elements of what might be called a model of incremental genocide.
"Genocide" is an emotive term, and one few people wish to use in relation to Israel, given the extermination of many millions of European Jews at the hands of the Nazis. But it is a term that exists outside of, and apart from, the Holocaust. It has a meaning clearly defined in international law, and one that is key to analysing and evaluating political situations and their likely future trajectories. The term was coined precisely to offer tools for early detection so that genocides could be prevented from taking place, not simply labeled once the atrocity was over. To preclude genocide as a possible explanation for Israel's behavior in Gaza is to prioritize the historic sensitivities of some Jews over the current, urgent and existential threats to a substantial part of the Palestinian people.
The United Nations adopted a Convention on the Prevention and Punishment of the Crime of Genocide in 1948, the year of Israel's creation. It defined genocide as:
"any of the following acts committed with intent to destroy, in whole or in part, a national, ethnical, racial or religious group, as such:
a) Killing members of the group;
b) Causing serious bodily or mental harm to members of the group;
c) Deliberately inflicting on the group conditions of life calculated to bring about its physical destruction in whole or in part;
d) Imposing measures intended to prevent births within the group;
e) Forcibly transferring children of the group to an other group."
Genocide is confirmed by only one of these five acts, and there should at least be a suspicion – as we shall see – that Israel is effecting the second and third in Gaza.
Israeli academics too have noted the need for another term – in addition to ethnic cleansing and apartheid – to describe Israel's policy towards the Palestinians, especially in Gaza. The late Israeli sociologist Baruch Kimmerling, one of the country's foremost scholars of Israeli and Palestinian nationalism, invented a word – politicide – to avoid the term genocide. In 2003, years before Israel's blockade and repeated attacks on Gaza had begun, he defined politicide as having two effects:
"The first is the destruction of the Palestinian public sphere, including its leadership and social and material infrastructure. The second effect is to make everyday life for the Palestinians increasingly unbearable by destroying the private sphere and any possibility of normalcy and stability. … All of these conditions are … designed to lower Palestinian expectations, crush their resistance, isolate them, make them submit to any arrangement suggested by the Israelis, and eventually cause their voluntary mass emigration from the land."
It hardly matters whether we describe the Israeli plan outlined by Kimmerling as incremental genocide or politicide; he accurately presents Israel's monstrous vision of a half-life for Palestinians in the occupied territories in which they are stripped not only of their rights but also of their humanity. On this view, Palestinians are conceived of not so much as lesser beings but as non-beings whose fate should not trouble us.
Putting Gaza on a Diet
There have been three clear signals from senior Israeli officials of the strategic shift in thinking about Gaza – of how the limits of what is imaginable – have been gradually shifting.
The first was articulated in 2006 by Dov Weissglass, an adviser to the Israeli prime minister of the time, Ehud Olmert. He alluded to Israel's new approach to Gaza during an interview with the Haaretz newspaper. "It's like an appointment with a dietician. The Palestinians will get a lot thinner, but won't die," he said, referring to Israel's recent imposition of an economic blockade on Gaza, backed by an aid boycott by western governments. Most observers at the time dismissed his comment as hyperbolic. But later it emerged that Weissglass had actually been describing a policy that was about to be implemented by the Israeli army.
In 2012, after a three-year legal battle by Gisha, an Israeli human rights group, Israel was forced to disclose a document called "Red Lines" that had been drafted in early 2008. At that time, as the blockade was tightened still further, the Israeli defense ministry requested calculations by health officials of the minimum number of calories needed by Gaza's inhabitants to avoid malnutrition. Those figures were then translated into truckloads of food Israel was supposed to allow in each day at the crossings.
But in practice the military authorities ignored the advice of the government's own calorie-counters. While the health ministry determined that Gazans needed daily an average of 2,279 calories each to avoid malnutrition – requiring 170 trucks a day – military officials found a host of pretexts to whittle down the trucks to a fraction of the original figure. An average of only 67 trucks – much less than half of the minimum requirement – entered Gaza daily. This compared to more than 400 trucks that had been entering before the blockade began.
Israeli officials had deducted trucks based both on an over-generous assessment of how much food could be grown locally and on differences in what they termed the "culture and experience" of food consumption in Gaza, a rationale that was never explained. Gisha, which fought for the document's publication, observed that Israeli officials had ignored the fact that, as we shall see, the blockade had severely impaired Gaza's farming industry, with a shortage of seeds and chickens that had led to a dramatic drop in food output.
Further, the UN noted that Israel had failed to factor in the large quantity of food from each day's supply of 67 trucks that never actually reached Gaza. That was because Israeli restrictions at the crossings created long delays as food was unloaded, checked and then put on to new trucks. Many items spoiled as they lay in the sun.
And on top of this, Israel adjusted the formula so that the number of trucks carrying nutrient-poor foods like sugar were doubled while the trucks carrying nutrient-rich food like milk, fruit and vegetables were greatly reduced, sometimes by as much as a half. Robert Turner, director of the UN refugee agency's operations in the Gaza Strip, observed at the time: "The facts on the ground in Gaza demonstrate that food imports consistently fell below the red lines."
The question was why, if the politicians and generals were advised by health experts that Gaza needed at least 170 trucks a day, did they oversee a policy that allowed in only 67? How could such a policy be described?
A Return to the Stone Age
Another clue to Israel's thinking was provided in early 2008, at about the time defense officials were putting Gaza on a diet. Matan Vilnai, a former army general and at that point Israel's deputy defense minister, discussed on Israeli radio a vicious bout of bloodletting that had killed more than 100 Palestinians, on one side, and an Israeli student, on the other. For the first time Qassam rockets fired from Gaza had hit the center of the southern Israeli city of Ashkelon.
Vilnai told the interviewer: "The more Qassam fire intensifies and the rockets reach a longer range, they [the Palestinians of Gaza] will bring upon themselves a bigger shoah because we will use all our might to defend ourselves." The comment was picked up by the news agency Reuters because the Hebrew word "shoah" – literally "disaster" – was long ago reserved to describe the Holocaust, in which millions of European Jews were murdered by the Nazis. Its use in any other context had become virtually taboo. Appreciating the potential damage the remark could do, Israel's foreign ministry immediately launched a propaganda offensive to persuade the world's media that Vilnai was only referring to a general "disaster", not a holocaust.
Few Israelis were deceived. Haaretz's cultural commentator, Michael Handelzalts, noted that "whatever connotations the word [shoah] had before the Nazis embarked on their systematic extermination of the Jews, today it means – with quotation marks or without them, with "the" preceding it or without it – just that." Why would Vilnai select this extremely provocative and troubling word to frame his threat to the Palestinians?
At the time, few could have understood that Vilnai's "shoah" comment would take physical form a few months later in the first of a series of horrifying military rampages by Israel in Gaza. In late 2008-09, and again in 2012 and 2014, Israel wrecked Gaza, destroyed many thousands of homes and its key infrastructure, including its power plant, and left many thousands dead and many tens of thousands wounded and disabled. Tens of thousands more found themselves homeless.
The first of these attacks, in winter 2008, came under close scrutiny from the UN through a fact-finding mission led by a South African jurist, Richard Goldstone. The panel's report suggested that the Israeli army – as well as Hamas – had committed war crimes and crimes against humanity during Israel's three-week Operation Cast Lead. It noted Israel's use of unconventional weapons such as white phosphorus, the destruction of property on a massive scale, and the taking of civilians, including young children, as human shields. And significantly it concluded that Israel had targeted civilians "as a matter of policy".
After the report's publication, Goldstone, who is Jewish, faced an immense backlash from Jewish communities in the US and South Africa that painted him as a traitor. Jewish leaders in South Africa even prevented him from attending his grandson's bar mitzvah. Though his jurist colleagues did not, Goldstone eventually retracted his support for parts of the report, most importantly the reference to Israel targeting civilians as policy.
However, there were plenty of reasons to conclude that this was exactly what Israel had done – as would be confirmed by Israel's subsequent attacks, including the even more savage Protective Edge of 2014. Breaking the Silence, an organization of whistle blowing Israeli soldiers, collected many testimonies from soldiers indicating that they received orders to carry out operations with little or no regard for the safety of civilians. Some described the army as pursuing a policy of "zero-risk" to soldiers, even if that meant putting civilians in danger.
Similarly, leaflets produced by the military rabbinate – apparently with the knowledge of the army top brass – urged Israeli ground troops, an increasing number of whom are religious and from the settlements, to show no mercy to Palestinians. It characterized the Palestinians as the Philistines, the Biblical enemy of the Jews, and told them Israel was waging "a war on murderers." In a sign of the extent to which the army is being taken over by such religious extremists, Ofer Winter, who extolled his troops in 2014 to attack Palestinians in Gaza as "blasphemers," was appointed commander of the 98th Division, Israel's most elite combat troops, in July 2019.
But even more significantly, in October 2008, a few months after Vilnai's "shoah" comment and two months before the launching of Cast Lead, the Israeli army formally divulged a new military policy known as the Dahiya Doctrine. In fact, it had first been field-tested during the 2006 summer offensive on Lebanon that had left much of that country in ruins after waves of missile strikes. Gadi Eisenkot, the general widely credited with developing the doctrine, clarified its goal: "We will apply disproportionate force on [any area resisting Israel] and cause great damage and destruction there. From our standpoint, these are not civilian villages, they are military bases. This is not a recommendation. This is a plan."
A short time later, the Israeli commander overseeing the Cast Lead attack on Gaza, Yoav Galant, echoed Eisenkot, saying the aim of the military operation was to "send Gaza decades into the past." Israel's intention was to lay waste to Gaza's infrastructure, forcing survivors to eke out a bare existence rather than resist Israel.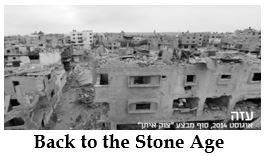 In early 2019, Benny Gantz, who had overseen the even more brutal Operation Protective Edge of 2014, fought a general election as head of a new party named Blue and White. He and the other generals who led the faction played up their military credentials with a series of campaign videos. One showed the wastelands of Gaza after the 2014 attack, a camera hovering over a sea of rubble as far as the eye could see. Alongside these images, the video boasted: 6,231 targets destroyed and 1,364 terrorists killed, and it concluded: "Parts of Gaza have been sent back to the Stone Age."
An Economy in Collapse
For more than a decade Israel has pursued a consistent and barely veiled double policy: destroying Gaza's infrastructure with massively violent military attacks – laying waste to tens of thousands of homes, the enclave's only power station, farms, schools, universities, hospitals, factories – while at the same time putting the population on a near-starvation diet through a punishing, long-term blockade. This has been rationalized by both rabbis and army commanders using language designed to degrade the humanity of Palestinians, characterizing them as "murderers" and their communities as "military bases".
And behind the scenes, Israel has also assisted in a third, wider strategic approach toward Palestinians under its rule that has impacted Gaza in ways that have intensified the effects of the two other policies.
Ariel Sharon pulled the settlers from Gaza in 2005 without an agreement with, or handover to, Mahmoud Abbas's Palestinian Authority, the Palestinians' supposed government-in-waiting. Denied the chance to take credit for Israel's disengagement, the PA was forced on to the back foot. Its Hamas rivals presented Israel's withdrawal as a victory for its strategy of violent resistance, in contrast to the ineffectiveness of the PA's diplomatic approach and security coordination with Israel. Hamas leaders argued that it was they who had chased Israel out of Gaza, the occupier's tail between its legs.
That, in part, set up Hamas for its win in the Palestinian legislative elections, as well as for its violent confrontation in Gaza with Abbas's Fatah faction and ultimately Hamas's takeover of the enclave in 2007. Over the next 12 years, the geographic and ideological split between the Fatah-ruled West Bank and Hamas-run Gaza has only deepened. By default, the division has turned the PA into Israel's ally in isolating and punishing Hamas – and by extension Gaza. The PA has imposed its own form of blockade on Gaza, most significantly withholding transfers of revenues to the enclave, leaving public-sector workers, the largest employed group in the occupied territories, on severely reduced salaries. The harmful effects have been felt across the enclave, because typically the salary of each Palestinian in employment supports a much larger extended family.
Combined, these three factors have engineered the near-collapse of Gaza's economy.
In 1999, even after Israel had sealed off Gaza from Israel with an electronic fence, some 40,000 workers – about 15 per cent of the labor force – were still employed in Israel, many of them on construction sites in and around Tel Aviv or in the Erez industrial zone. Today, those jobs are unavailable to Gaza's besieged inhabitants.
Slightly over half the population now live below the poverty threshold, on less than $4.60 a day, and a similar number are unemployed. A third of them live in extreme poverty. The Israeli human rights group B'Tselem concluded in June that Gaza's isolation and misery was a policy the Israeli government had chosen. Israel, it said, had brought about the enclave's "economic collapse and trapped its residents in a small, closed job market, with no prospects of development and no future. Israel could change this stifling reality right now. Instead, it chooses to force Gaza residents to live in a state of poverty, stagnation and hopelessness."
Meanwhile, Gaza's private business sector has been reeling from the combined effects of the blockade and repeated military assaults. Although there were once eight crossing points between Gaza and Israel, today exports are possible only through one, the Kerem Shalom cargo terminal. Before the blockade, some 120 trucks passed out of Gaza each day to Israel, the Arab world and Europe carrying clothing, food, beverages and furniture. Today, that number never rises above nine trucks, and on numerous occasions none have been allowed through. Israel tightens restrictions at Kerem Shalom as a way to collectively punish Gaza's population for rocket fire into Israel or protests at the fence.
Consider the following industries that were crucial to Gaza's economy:
Textile Factories. For many years, Gaza's low wages encouraged Israeli clothing companies to order garments from the enclave's factories. But after Israel tightened the blockade in 2007, it became all but impossible for these factories to get their products out. According to the Union of Palestine Textile Industries, 90 per cent of Gaza's 930 sewing factories closed as a result, leaving 35,000 workers without jobs. A slight easing of the restrictions in 2015, which allowed exports to the West Bank and Israel, has led to the partial reopening of some 40 factories.
However, those that have resumed operation are in a precarious situation. The regular interruption in the electricity supply, and the high price of generating power privately, have added significantly to production costs. Israel still denies exit permits to most merchants and trade association heads, making it difficult to develop and expand their businesses. Israel's refusal to allow in equipment, such as sewing machines, and supplies, such as linens, continues to damage the industry. And hanging over all the factories is the permanent threat of a new Israeli assault on Gaza, which would not only disrupt exports but could lead to any of the buildings being targeted for destruction.
Construction Industry. Construction is Gaza's one guaranteed growth industry, given the extraordinary levels of destruction wreaked repeatedly on the enclave by Israel. But in practice the sector is in deep trouble. Whereas once construction accounted for a third of Gaza's Gross Domestic Production, today it supplies less than a fifth of Gaza's now much-reduced GDP. The industry has sustained massive damage from Israel's military operations: 2014's Protective Edge alone destroyed some 100 steel, cement, and brick works. And the sector knows its factories are high on the hit-list in any future attacks.
Also, the so-called Gaza Reconstruction Mechanism, agreed between Israel and the UN after the 2014 assault as a way to rebuild a devastated Gaza, has imposed strict regulations on materials that can be brought into the enclave, and requires Israeli approval before any infrastructure projects can be undertaken. Given the added difficulties faced by most Palestinian families securing a bank loan without assured employment, construction firms have very limited opportunities for work.
A study published in May by the Palestinian Federation of Industries found that construction is operating at only about 15 per cent of its capacity, which is continuing to shrink. This year there were only 1,840 people employed in construction compared to 3,170 last year – a decline of 42 per cent. Many contractors are rapidly relocating their Gaza operations abroad, to Arab countries such as Jordan, Syria and Iraq.
Agriculture. Since Israel erected a fence around Gaza, it has used heavy equipment to uproot trees and foliage, flattening and scarring a wide area of land on the Gaza side of the perimeter, leaving it desolate. A third of the enclave's arable land falls within this Israeli-defined no-man's land, zones that can stretch up to half a mile inside Gaza. In 2012 the International Red Cross negotiated an agreement to allow Gaza's farmers to grow short crops up to .2 miles from the fence and taller crops up to half a mile. But the farmers are still reluctant to enter these approved areas: experience shows they risk being shot. Irrigation systems and water pumps in range of Israel's automated gun towers are also regularly targeted.
Since 2007 the blockade has prevented farmers exporting to the West Bank and Israel, their main markets. And restrictions on imports of animal vaccines have led to outbreaks of disease among livestock. Polluted water sources mean that food is likely to be contaminated with bacteria, parasites and industrial runoff. And during Israel's military operations, outlying farms have been repeatedly targeted. Protective Edge of 2014 caused $500 million of direct and indirect damage to the farming sector, destroying irrigation wells and greenhouses as well as killing farm animals.
In addition, Israel has regularly fumigated the farmers' lands with herbicides to damage crops, on the pretext of increasing the field of vision along the perimeter fence. The chemicals Israel uses include Roundup, which is suspected of being carcinogenic and banned in some countries. Some 30 spraying operations took place between 2014 and 2018, damaging a total of 3,500 acres of farmland and pasture, according to Gaza's agriculture ministry.
Forensic Architecture, a research group that has modeled the drift from the spraying operations, accuses Israel of creating "a dead zone of entire swathes of formerly arable land." According to the Red Cross, irrigation pools as far as half a mile from the perimeter fence have been polluted, and the herbicide residues remaining in the ground pose a threat to those eating produce grown on sprayed land. Hundreds of farmers are reported to have suffered losses worth thousands of dollars each from the spraying, but compensation claims have been rejected by the Israeli courts.
Fishing Industry. Fishing is traditionally one of Gaza's most important commercial activities – as well as providing locally sourced food. In recognition of that fact, the Oslo accords, signed a quarter of a century ago, established the fishing limit off Gaza's coast at 20 nautical miles. Israel, however, has refused to abide by the agreement: the navy has never allowed Gaza's boats to fish more than 15 miles from the coast. But more typically Israel has restricted fishing to 3 or 6 nautical miles, a range that makes it all but impossible to catch commercial quantities of fish.
Furthermore, closures – banning fishermen entirely from access to Gaza's coastal waters – have been repeatedly instituted by Israel as a punitive measure, most recently over the launching of incendiary balloons and the protests at the perimeter fence. Ismail Haniyeh, the political head of Hamas, has called this "a policy of extortion." Israeli human rights groups, meanwhile, note that it constitutes "collective punishment" – a war crime.
According to B'Tselem, back in 2000 there were 10,000 registered fishermen, while today there are only 3,500. In practice, however, no more than half that figure actually go out in boats. The blockade means that most cannot find materials like fibreglass to repair their vessels or motor parts. Nearly all of Gaza's fishermen are reported to be living below the poverty line of $4.60 a day. Meanwhile, the price of fish has soared, given the scarcity, leaving few in Gaza able to afford it.
Israel's navy also regularly confiscates boats, claiming they have strayed outside its imposed fishing zone, and then refuses to return them for months or years. Many fishermen cannot afford costly GPS equipment, leaving them unsure whether they are inside the prescribed area. The navy, meanwhile, appears to enforce a "buffer zone" that makes unintentional "violations" by boat crews more likely.
The fisherman also risk being arrested or shot when they head out into Gaza's waters. In the seven months to July of this year, Israel fired on fishing boats more than 200 times, injuring 15 crew members, according to Al Mezan, a Palestinian human rights group. Another 30 fishermen were seized and detained in Israel.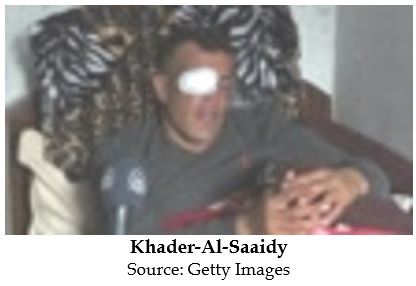 One recent story that gained some attention was the shooting of 31-year-old Khader Al-Saaidy, a father of three. Like most fishermen, he has had regular run-ins with the Israeli navy over the years. His small boats have twice been impounded and not returned, costing him some $16,000 to replace them. Then two years ago he was shot in the leg while out fishing, and a friend alongside him was shot in the face, losing the sight in an eye. On that occasion Al-Saaidy was jailed for 14 months.
In February his boat was attacked again. This time, naval commandos fired a hail of rubber-coated steel bullets from close range, hitting him 15 times in the upper body. Some of the bullets shattered his eye sockets. The boat was seized by the navy and towed to Ashdod. He was later taken to an Israeli hospital in Ashkelon, where one eye was removed. Hospital staff told him the second eye could be saved with complicated surgery. But he was dumped by the army at the Gaza crossing four days later and has been denied a permit to attend follow-up appointments in Israel ever since. Under questioning from the Israeli Haaretz newspaper, military authorities said he was not eligible to enter Israel because his injuries "did not constitute mortal danger."
Healthcare Industry. Al-Saaidy's need for health care in Israel – and the military's refusal to allow him to enter for treatment – are difficulties that have become common as Gaza's health sector has collapsed under the combined strain of more than decade of a blockade and a series of military assaults.
The blockade has prevented medicines and basic equipment reaching Gaza, leading to severe shortages of infant formula, as well as medicines for cancer, kidney failure, diabetes and hypertension. It has been impossible for staff to keep up to date with the latest procedures and medical knowledge, and qualified medical staff are reported to be in short supply. Israel's intermittent bombing sprees have severely damaged hospitals, medical centers, ambulances, as well killing and injuring medical staff. In 2014 Israel bombed five hospitals. Electricity shortages have made it difficult for medical centers to keep operating or reliably provide treatments like dialysis.
All of this has happened as Israel's attacks have inflated the need for emergency medical care and rehabilitation services, stretching Gaza's war-battered health sector to breaking point. Casualties from Protective Edge of 2014 alone included more than 2,200 dead and a further 11,000 seriously wounded, with many needing long-term treatment for disabilities. And since March 2018 some 500 Palestinian protesters a week on average – including 60 children – have needed emergency care for injuries inflicted by snipers at the perimeter fence. So far some 140 of these casualties have required amputations, including 30 children. Another 1,700 of the wounded are expected to lose a leg over the next two years because of complications Gaza's medical centers cannot cope with, according to the UN.
Local health services also need to deal with the lasting effects of toxic environmental changes. Non-conventional weapons used by Israel during its attacks have dramatically increased the number of low birth-weight babies and birth defects over the past decade. And more of the urban population has been exposed to heavy metals as Palestinian entrepreneurs have improvised solutions to deal both with electricity shortages, by manufacturing primitive batteries, and with the blockade, by cannibalizing electrical parts. Research published in June showed that most children near such workshops had dangerously high levels of lead in their blood.
The Water Supply
Water has an intimate connection to public sanitation and health. Water pollution and the lack of sewage treatment threaten the outbreak of major diseases like cholera and diptheria, especially among children. So far such epidemics have been largely held in check by UNRWA's vaccination program. But with the US having defunded the refugee agency since 2018, combined with a shortage of antibiotics, the risk of contagion has grown.
According to a study by the RAND corporation four years ago, gastrointestinal infections from water pollution accounted for a quarter of all illnesses in Gaza and 12 per cent of child deaths. Rates are believed to have increased since then, with the spread of rotavirus, salmonella and cholera. A recent Palestinian report suggested that up to 60 per cent of all illnesses in Gaza may be the result of water pollution. Another study showed that Gaza's schools share one toilet between 75 students and one sink among 80 children. Hand washing and toilet flushing are necessarily kept to a minimum, further risking the spread of disease.
Most families in Gaza have to rely on purified water to drink, but that requires them to spend as much as a third of their income on water purchases. With unemployment estimated at 57 per cent of the population, more and more families cannot afford treated water, relying instead on the short periods the authorities turn on the tap in their area.
Possibly in response to fears like those expressed by Israeli researchers about the risk of epidemics in Gaza spreading beyond the fence, Israel has belatedly agreed to limited new water supplies for Gaza. After a decade of objections, Israel allowed a desalination plant in Gaza to open in 2017. However, as it can produce only a third of Gaza's shortfall in supplies, the treated water is currently being mixed with polluted water to extend the volume of water coming out of taps.
Leaving Babies to Die Alone
Although Israel is entirely culpable for the health crisis in Gaza, and accountable for it in international law, it has taken only the most minimal responsibility for those in desperate need of treatment. Even when Israel does provide medical care for sick Palestinians from Gaza in its own hospitals, the Palestinian Authority has to foot the bill.
As the blinded fisherman Khader Al-Saaidy found, however, it is extremely difficult to get permits from Israel to leave Gaza for treatment – whether in Israeli hospitals or in Palestinian-run ones in East Jerusalem. Israel usually requires proof that without intervention from a hospital outside Gaza the patient is at serious risk of death. Even then, many of the patients approved for a permit or, in the case of children, their escorts, are subjected to intimidation to turn informer before they are allowed to leave.
Israel's permit rules have created a spate of heartbreaking cases for the families of young children. According to Physicians for Human Rights, Israel issued 7,000 permits for children to leave Gaza for treatment last year, but approved a parent accompanying them in only 2,000 cases. Instead a majority of the children were escorted by an elderly relative such as a grandparent or aunt. Such children with life-threatening conditions were therefore forced to travel and endure complicated and frightening treatment without a mother or father present.
Israel's policy applies to babies too. In the first six months of this year, 56 infants from Gaza were separated from their parents while in hospital, and six died alone. Hiba Swailam, aged 24, found herself in precisely this situation after severe complications during pregnancy. She was permitted to leave Gaza to have her triplets delivered two months early at Al-Makassed Hospital in East Jerusalem. However, her permit expired long before the triplets were well enough to return with her to Gaza. She was therefore forced to leave them behind. One died after nine days, and another after two weeks. According to doctors at Al-Makassed, one of the babies could have survived if it had been breastfed. The surviving baby spent months alone at the hospital, cared for by nurses, with Swailam only able to see her baby by video. Only when the story was finally picked up by Britain's Guardian newspaper did the Israeli authorities relent and issue Swailam with a permit to collect her baby daughter.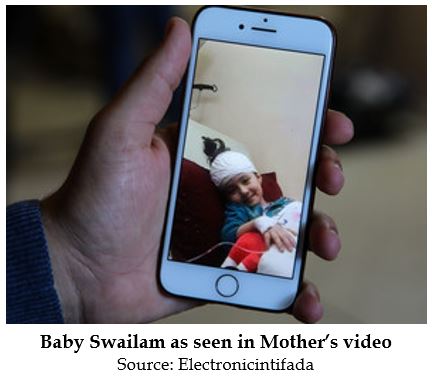 One of the nurses at Al-Makassed, Ibtisam Risiq, noted the psychological effects on such babies: "They need love. Their heart rates go up. They are depressed." But soon even Al-Makassed's services may no longer be available to patients from Gaza. The US cuts to funding implemented by Trump last year have also targeted the East Jerusalem hospital.
Gaza's medical centers need to deal with more than the population's physical health. The enclave's severe isolation and a decade of repeated bombardments and devastation have taken a heavy psychological toll, especially on children. One psychologist recently told the documentary-maker Harry Fear that Gaza's entire population was traumatized to some degree. The enclave's limited mental health services, however, have no hope of dealing with such an epidemic of emotional and mental trauma. The task is made still harder by the fact that patients suffering from conditions like depression, anxiety, panic attacks, and PTSD cannot be reassured that the source of their trauma is behind them. Constantly hanging over Gaza is the threat of another round of destruction, another wave of bloodletting.
In March a study by the Norwegian Refugee Council found that more than two-thirds of children who live near the perimeter fence suffered from what it termed "psycho-social distress." Some 42 per cent had seen at least one bomb explosion, while a third knew someone who had been killed in an attack. One in 14 had lost their own home to a bomb or missile. More than half felt no hope for the future, and 81 per cent struggled academically because of the conflict. "Gaza's humanitarian crisis has left an entire generation emotionally damaged," said the council's local director, Kate O'Rourke. "It takes years of work with these children to undo the impact of trauma and restore their sense of hope for the future."
The situation is not likely to improve soon. UNRWA slashed in half its mental health budget late last year as the loss of US funding started to bite. Counseling for children was among the services to be cut.
The Moment of Truth
By most measures, Gaza is already uninhabitable for the vast majority of its population. But as next year's deadline set by the UN nears, Israel is faced with a stark choice. Given the "logic of elimination" at the core of settler colonial ideologies like Zionism, Israel, as previously noted, has to choose one of three paths in relation to Gaza's inhabitants: genocide, ethnic cleansing or apartheid. But if as the UN says, and the preceding text highlights, Gaza is about to become uninhabitable, then apartheid will soon no longer be an option. Penning 2 million people up inside an uninhabitable prison amounts not to apartheid but, by default, to slow-motion genocide. So the Israeli public and the watching world are rapidly arriving at a moment of truth. Is Israel going to stand by as Gaza sinks into the terminal humanitarian catastrophe its policies have created? Can it avoid the spread of disease, or hordes of Palestinians fleeing Gaza to escape such epidemics, as its own experts have forecast? And will western states remain complicit through their silence and financial, diplomatic and military support of Israel? In an age of 24-hour rolling news and social media, death on such a large scale may prove too unpalatable.
But if this is the case – if genocide is not acceptable, and apartheid no longer sustainable – that leaves Israel and the US with only one alternative: another major episode of ethnic cleansing.
I have documented elsewhere the strenuous efforts over the past decade by Israel and the United States to force Egypt to accept the reinvention of northern Sinai, the peninsula neighboring Gaza, as a new Palestinian state, and one that would house most of Gaza's inhabitants.
In this vision, making Gaza uninhabitable is not, as it currently appears, a dead-end strategy leading to genocide. Rather it is an accumulation of pressure on the people of Gaza and the watching international community designed to make it impossible for the Egyptian leadership to deny the enclave's residents access to Sinai. Like a tube of toothpaste, Gaza is being squeezed ever more forcefully on the assumption that, when the cap is removed – the Egyptian land crossing into Sinai is finally open – the enclave's inhabitants will flood out, desperate to breathe again.
In 2014 the Israeli media reported on this plan, dubbed "Greater Gaza." At that time an Arab newspaper interviewed a former anonymous official close to Hosni Mubarak, the Egyptian president ousted in 2011. He said Egypt had come under concerted pressure from 2007 onwards – when Hamas took over the enclave – to annex Gaza to northern Sinai. Five years later, according to the same source, Mohamed Morsi, who led a short-lived Muslim Brotherhood government, sent a delegation to Washington where the Americans proposed that "Egypt cede a third of the Sinai to Gaza in a two-stage process spanning four to five years".
Since 2014, it appears, Morsi's successor, General Abdel-Fattah al-Sisi, has faced similar lobbying. Suspicions that the Egyptian dictator might have been close to capitulating were fuelled at that time by Abbas himself. In an interview on Egyptian TV, he said Israel's Sinai plan had been unfortunately accepted by some here [in Egypt]. Don't ask me more about that. We abolished it."
But Sisi's hand has since weakened. Both Abbas and Hamas are more isolated than ever, and the situation in Gaza more desperate. Israel has cultivated much closer ties to the Gulf states as they fashion joint opposition to Iran. Egypt is reported to have come under renewed pressure from the Gulf to concede territory in Sinai to help Trump with the long-delayed political elements of his "deal of the century".
Since last year, indications are that the Trump administration is pursuing an Israeli plan to gradually shift the center of Gaza's economic life into Sinai by constructing a free-trade industrial zone there as well as major infrastructure projects, such as a new power plant. That was the thrust of a document leaked earlier this year to the Israel Hayom, a free daily funded by Sheldon Adelson – a paper largely seen as a mouthpiece for Netanyahu and his government – that purported to be a leaked version, or at least a draft, of the Trump peace plan.
The advantages to Israel are that it would make the international community permanently responsible for Gaza's economic welfare and leave Egypt and the wider Arab world in charge of pacifying, controlling, and punishing the people of Gaza should they protest their conditions. The Sinai plan would be viewed by western states as formally ending the occupation of Gaza and its 2 million inhabitants and provide a precedent for gradually relocating Palestinians from the West Bank and East Jerusalem to Sinai as well. Israel would finally be off the hook for the crimes it has committed since 1948.
Can Israel and the US really achieve all of this? Time will tell. But meanwhile, Gaza's 2 million inhabitants are unlikely to be offered much relief from the horrifying reality of life in their prison – a prison that in only a few months will officially be judged uninhabitable.
By Fred Jerome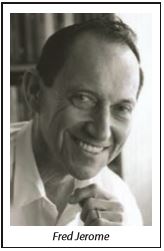 On March 7, 2016, Washington D.C. litigator Martin F. McMahon filed a lawsuit in Federal District Court in Washington, DC seeking $34.5 billion in damages from eight U.S. billionaires.
The plaintiffs were 37 Palestinians (increased to 62, as of this writing) who accuse the billionaires of civil conspiracy, war crimes against humanity, and genocide; aiding and abetting the commission of war crimes; and aggravated and ongoing trespass.
The lead plaintiff, Bassem al-Tamimi, is a human rights activist; the lead defendant, Sheldon Adelson, a Las Vegas casino magnate, a close ally of Israeli Prime Minister Benjamin Netanyahu, and a major supporter of President Donald Trump.
The suit also targets former U.S. diplomat Elliott Abrams, plus 13 non-profit, charitable organizations with headquarters in the U.S. — some consisting of a small office or just a P.O. Box.
Also listed among the defendants are two banks (Bank Leumi and Bank Hapoalim), and several companies/corporations, such as the world's largest security protection firm G4S, as well as RE/MAX, Hewett-Packard, Motorola, Veolia, and Volvo.

The Lawsuit
A pdf version of the 200-page complaint can be found on AMEU's website: www.ameu.org. Here are excerpts from pages 12 – 13.
…due to massive funding provided by U.S. tax-exempt entities and their donors to a number of settlements in the OPT (Occupied Palestinian Territory), defendants herein have been able to carry out a very successful civil conspiracy, the goals of which were the expulsion of all non-Jews from OPT and the creation of new segregated "Jewish-only" cities and villages. These defendants have:

(a) financed, encouraged, and deliberately collaborated with settlement officials (including security coordinators) in the commission of wholesale violence, knowing that would result in massive ethnic cleansing of the Palestinian population; and

(b) after forcibly expelling at least 400,000 Palestinians from the OPT, built for "Jewish-only" settlers some 56,000 new homes and apartments, 187 shopping centers, and an extensive highway complex linking up all settlements in the OPT.

in the process, they and their Israel-based co-conspirators have deprived the plaintiffs and their relatives of fundamental human rights guaranteed under U.N. charter principles, U.S. and Israeli law, Israel's declaration of state establishment ("declaration"), and customary international law.
The Attorneys
Lead attorney for the Palestinian plaintiffs is Martin McMahon who, in 1987, founded the Martin F. McMahon & Associates law firm in Washington, DC. Prior to that, McMahon, a graduate of Fordham Law School, had been a senior litigator with the Securities Investor Protection Corp, a litigation associate with Proskauer Rose, and a clerk at Cravath Swaine & Moore on Wall Street. His significant experience in both civil and criminal litigation is the foundation upon which he developed the Transnational Business Attorneys Group, the international practice component of his firm.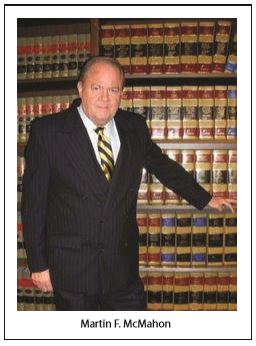 When, on March 3, 2015, Israel's Prime Minister Benjamin Netanyahu walked into the U.S. Congress and insulted the office of the American president, McMahon decided to represent Palestinians in order to secure justice under the Alien Tort Statute. In an email to me dated Feb. 9, 2017, he underscored the fact that "400,000 Palestinians have been forced out of the West Bank and 57,000 Palestinian homes have been demolished or confiscated."
In that same email, Martin noted his latest lawsuit, filed on Feb. 1, 2017 in U.S. District Court for the District of Columbia. This is based on the Justice Against Sponsors of Terrorist Act that Congress passed last year to help the victims of 9/11 sue the government of Saudi Arabia. According to McMahon, "Netanyahu has been instrumental in frustrating U.S. foreign policy objectives and has participated in an annual $2 billion money laundering scheme along with Trump's in-laws (the Kushner family) and the new U.S. ambassador to Israel, Mr. Friedman." A copy of this lawsuit can be found in Courthouse News "To Fight Netanyahu Taxpayers Invoke New Law for 9/11 Families," Feb. 1, 2017.
As for the al-Tamimi lawsuit, McMahon told Al Jazeera on March 7, 2016: "Forty percent of Jewish Americans condemn settlements so there is a complete reversal going on in America against tolerating these actions from the Israeli government, and our lawsuit apparently is a vehicle for those who are completely frustrated by that process."
Also listed as counsel for the plaintiffs is Sameer Jarrah, esq., founder of the Arab World Center for Democracy, Development, and Human Rights, and the Todd G. Patkin Fellow in Arab Democracy and Development at the Saban Center for Middle East Policy at the Brookings Institute.
The Lead Plaintiff: Bassem al-Tamimi
I will let Bassem speak for himself. In an email to me he wrote:
In the village, there ​are​ 600 people ​who​ ​are​ ​part of​ ​one​ ​family​ ​–​ ​Tamimi.​ ​We​ ​came​ to​ ​Nabi​ ​Saleh​ ​from​ ​Hebron​ ​400​ ​years​ ​ago, and​ ​settled​ ​in​ ​two​ ​villages​ ​​ ​Deir​ ​Nedam​ ​and​ ​Nabi​ ​Saleh.​ ​Most​ ​of​ ​my​ ​family left​ ​for​ ​Jordan​ ​and​ ​other​​​ ​countries​ ​after​ ​the​ ​1967​ ​war. We have had 22 people from the village killed since the 1967 war. The last one was my brother-in-law Rushdi. Some were killed in the West Bank, some in Jordan and some in Lebanon, but all were killed by Israeli Occupation forces. Every​ ​year,​ ​as​ ​I grew​ ​up,​ ​we​ ​had​ ​a​ ​funeral​ ​for​ ​a​ ​family​ ​member.

In​ ​1976,​ ​the​ ​settlers​ ​came​ ​​ ​and​ ​started​ ​building settlements​ ​in​ ​our​ ​land, and​ ​my​ ​family​ ​started​ ​resistance​ ​and​ ​struggle​ ​to​ ​protect​ ​their​ ​land​ ​against this​ ​colonization.​ ​This​ ​was​ ​my​ ​first​ ​time​ ​being​ ​tear-gassed.

I ​finished​ ​my​ ​school​ ​in​ ​1985,​ ​and​ ​tried​ ​to study​ ​in​ ​the​ ​university.​ ​But​ ​I​ ​needed to​ ​have​ ​a​ ​job​ ​because​ ​my​ ​father​ ​was​ ​​ ​sick​ ​and​ ​couldn't​ ​work.​ ​​ ​I​ ​enrolled​ ​in Beirut​ ​Arab​ ​​University​ ​as​ ​a "long-distance​ ​student"​ ​—​ ​the​ ​Israeli​ ​​civil administration​ ​gave​ ​me​ ​a​ ​permit​ ​​ ​to​ ​​ ​go​ ​to​ ​Jordan​ ​just​ ​one​ ​day​ ​before​ ​the exam.​ ​But​ ​the​ ​second​ ​year,​ ​they​ ​refused​ ​to​ ​give​ ​me​ ​any​ ​permit​ ​at​ ​all.​ ​​

May​ ​1st​ ​was​ ​the​ ​date​ ​that​ ​I​ ​was​ ​first​ ​arrested for six months of what they call 'Administrative Detention'​ ​–​ ​with​ ​no​ ​charges. And​ ​the​ ​arrests​ ​continued​ ​–​ ​I​ ​was​ ​arrested​ ​nine​ ​more​ ​times,​ ​mostly​ ​for "Administrative​ ​Detention."​ ​In​ ​1993,​ ​they​ ​arrested​ ​me​ ​for​ ​interrogation,​ ​and took​ ​me​ ​to​ ​Ramallah​ ​Prison,​ ​blindfolded​ ​with​ ​hands​ ​and​ ​legs​ ​cuffed,​ ​and​ ​my head​ ​in​ ​a​ ​dirty​ ​bag.​ ​They​ ​took​ ​me​ ​to​ ​a​ ​small​ ​cell​ ​–​ ​you​ ​can't​ ​sit,​ ​just​ ​stand​ ​in​ ​a place​ ​full​ ​of​ ​shit.
Then,​ ​on​ ​the​ ​3rd​ ​day,​ ​they​ ​took​ ​me​ ​in​ ​front​ ​of​ ​​ ​six Shabak​ ​officers [Shabak is an Israeli security agency whose chief answers directly to the prime minister—Ed.],​ ​and​ ​they​ ​said​ ​I​ ​was​ ​charged​ ​with​ ​killing​ ​a settler.​ ​Then​ ​the​ ​police​ ​took​ ​me​ ​to​ ​another​ ​office,​ ​tied​ ​my​ ​hands​ ​and​ ​legs behind​ ​me​ ​and​ ​covered​ ​my​ ​head.​ ​My​ ​hands​ ​and​ ​feet​ ​were​ ​cuffed​ ​to​ ​the constraint-​chair​ ​that​ ​is​ ​made​ ​to​ ​lean​ ​diagonally​ ​forward​ ​so​ ​it​ ​was​ ​almost falling.​

​​​I​ was​ ​tied​ ​with​ ​my​ ​hands tied​ ​behind​ ​the​ ​small​ ​chair's​ ​back,​ ​and​ ​every​ ​few​ ​minutes​ ​a​ ​policeman​ ​would come​ ​to​ ​make​ ​sure​ ​that​ ​I​ ​was​ ​not​ ​sleeping.​

​On​ ​the​ ​second​ ​morning​ ​the intelligence​ ​officer​ ​came​ ​and​ ​started​ ​the​ ​interrogation.​ ​A​ ​detective​ ​began torturing​ ​me,​ ​shaking​ ​me.​ ​He​ ​grabbed​ ​me​ ​by​ ​my​ ​chest​ ​and​ ​shook​ ​my​ ​body violently​ ​making​ ​my​ ​head​ ​move​ ​forward​ ​and​ ​backward​ ​and,​ ​tightly​ ​grabbing my​ ​chin,​ ​he​ ​would​ ​pull​ ​and​ ​shake​ ​my​ ​head​ ​in​ ​all​ ​directions.​ ​This​ ​continued​ ​for​more​ ​than​ ​eight​ ​hours,​ ​and​ ​then​ ​all​ ​I ​remember​ ​is​ ​that​ ​I​ ​lost consciousness.

I​ ​was​ ​in​ ​a​ ​coma​ ​for​ ​eight​ ​days.​ ​When​ ​I​ ​woke​ ​up,​ ​I​ ​felt ​​paraplegic​ ​–​ ​my​ ​left​ ​side​ ​didn't​ ​move.​ ​They​ ​took​ ​me​ ​back​ ​to​ ​the interrogation​ ​in​ ​this​ ​condition.​ ​Then​ ​they​ ​isolated​ ​me​ ​in​ ​al-​ ​Ramla ​ prison​ ​in​ ​a​ ​small​ ​cell​ ​​ ​among​ ​the Israeli​ ​criminal​ ​prisoners.​ ​Every​ ​day,​ ​the doctor​ ​would check​ ​my​ ​health​ ​and​ ​the​ ​intelligence​ ​officer​ ​came​ ​and​ ​asked​ ​me​ ​many questions​ ​for​ ​a​ ​long​ ​time​. ​ ​After​ ​a​ ​month,​ ​I​ ​started​ ​feeling​ ​better​ ​but​ ​still​ ​very weak.

They​ ​released​ ​me​ ​in​ ​this​ ​condition​ ​and​ ​I​ ​found​ ​myself​ at​ ​the​ ​funeral​ ​of my​ ​sister​ ​who​ ​was​ ​killed​ ​by​ ​an​ ​Israeli​ ​female​ ​working​ ​​ ​in​ ​the​ ​military​ ​​court when​ ​she​ ​was​ ​there​ ​to​ ​see​ ​her​ ​son​ ​(my​ ​nephew) at​ ​his​ ​trial. The​ ​woman​ ​in the​ ​court​ ​together​ ​with​ ​another​ ​woman​ ​(who​ ​was​ ​a​ ​settler)​ ​attacked​ ​her,​ ​beating​ ​her​ ​and​ ​pushing​ ​her​ ​so​ ​she​ ​fell​ ​on​ ​her​ ​head,​ ​causing​ ​a​ ​lot of​ ​bleeding​ ​until​ ​she​ ​died.​ ​She​ ​was​ ​mother​ ​of​ ​three​ ​boys​ ​and​ ​two​ ​girls.​

​I​ ​was​ ​arrested​ ​after​ ​that​ ​3​ ​times​ ​between ​ ​2003​ ​-​ ​2004.​ ​In​ ​the​ ​past​ ​few years,​ ​I've​ ​been​ ​held​ ​twice​ ​in​ ​administrative​ ​detention​ ​​ ​for​ ​organizing​ ​civil demonstrations​ ​in​ ​my​ ​village –​ ​for​ ​14​ ​months​ in 2011-2012,​ ​and​ ​​4​ months​ ​in 2013.

​ My​ ​wife​ ​​ ​has been arrested​ ​​ ​5​ ​time and once was​ ​shot​ ​in​ ​her ​leg​ ​and​ ​couldn't​ ​walk​ ​for​ ​two​ ​years. ​​She​ ​lost​ ​her​ ​brother​ ​–​ ​he​ ​was​ ​killed​ ​in​ ​front​ ​of​ ​her. She had been recording a video for B'Tselem, the Israeli human-rights NGO. Her brother Rushdi was at home with her. It was Saturday, there weren't any demonstrations and the children were playing behind the house. They heard the sound of shooting. Rushdi went to see what was happening and to bring the children in. When the army continued shooting, my wife heard that someone had been injured, so she took her camera and arrived (under fire) shouting "I'm Press!" When she arrived, Rushdi was surrounded by the IDF and bleeding, but they would not allow him to be taken to the ambulance. Some of this can be seen on the Youtube videos I am sending. [This video is posted on AMEU's website: www.ameu.org—Ed.]

​My​ ​son​ ​Waed​ ​was​ ​shot​ ​when​ ​he​ ​was​ ​12​ ​years​ ​old,​ ​and​ ​​ ​treated​ ​in hospital​ ​for​ ​5​ days​ ​and​ ​couldn't​ ​walk​ ​for​ ​a​ ​month.

​He​ ​was​ ​arrested​ ​when​ ​he​ ​was​ ​14​ ​and​ ​​ ​tortured. They​ ​put​ ​him​ ​in​ ​jail for​ ​a​ ​week.​ ​It​ ​was​ ​the​ ​same​ ​jail​ ​l​ ​was​ ​in,​ ​but​ ​they​ ​refused​ ​to​ ​let​ ​me​ ​see him. ​ ​He​ was ​arrested​ ​another​ ​time​ ​for​ ​1​ ​month.

My sister was arrested and held for ten days with no charges.

​All​ ​my​ ​sons​ ​were​ ​injured,​ ​and​ ​​ ​my​ ​daughter​ ​also​ ​shot​ ​and​ ​beaten​ ​by​ ​the army.

​I​ ​have​ ​a​ ​demolition​ ​order​ ​for​ ​my​ ​home​ ​which​ ​is​ ​located​ ​in​ ​area​ ​C​ ​with another​ ​12​ ​houses​ ​in​ ​the​ ​village.​ ​Part​ ​of​ ​my​ ​house​ ​was​ ​built​ ​in​ ​1964,​ ​and​ ​I had​ ​​ ​a​ ​​ ​​​permit​ ​from​ the ​Jordanian​ ​​ ​government.​ ​​ ​I​ ​have​ ​paid​ ​more than​ ​$8,000​ ​in​ ​fines.

They have raided my home night and day — hundreds of times. Every time they break and destroy something, and usually take something, like books and a camera. Once they took my computer and laptop.

Thanks and respect, Bassem Tamimi
Other Plaintiffs:
A listing of all plaintiffs, including the Village Councils of five villages in Palestine, is found on page 1 of the lawsuit. Here we note five individuals:
Susan Abulhawa
Susan Abulhawa is the award-winning author of the bestselling novels "Morning in Jenin" (2010) and "The Blue Between Sky and Water" (2015); she is also the founder of the non-governmental organization, Playgrounds for Palestine.
Her parents, both born in Jerusalem, were refugees of the 1967 war. Her father was expelled at gunpoint from his home, and her mother, who was in Germany at the time, was not permitted to return. The couple reunited in Kuwait, where Susan was born. Meanwhile, their family land in Jerusalem was seized by Israeli authorities.
In her own words, Susan tells why she joined the lawsuit: "I want a court, somewhere, somehow, to hold accountable those who have financed my pain of dispossession and exile…to hold accountable the financiers of Israel's wholesale theft of another people's historic, material, spiritual, and emotional presence in the world."
Ahmed Al-Zeer
Ahmed al-Zeer, an attorney, was viciously beaten by settlers while on his own property outside the segregated settlement of Ofra. According to the indictment, he suffered bleeding on the brain, a skull fracture, broken bones, other internal bleeding, and is now confined to a wheelchair.
The lawsuit argues that, had the U.S. Treasury enforced its rules and regulations, the American Friends of Ulpana Ofra and other U.S. tax-exempt entities would not have been able to send funds to the Ofra settlers who, in turn, would not have been provided with sophisticated military hardware, which they used to attack Al-Zeer on his own land.
Hiba Barghouthi
Hiba's brother Abdelrahman was 26-years-old when, on his return from a visit to the United States, he went out to the West Bank village of Aboud, which lies adjacent to the illegal Jewish settlement of Halamish.
According to his uncle, as reported by the Palestinian News and Information Agency (WAFA), Israeli forces stopped his nephew at the village entrance, where they opened fire on him, hitting him in the neck and head with over six bullets, causing his immediate death. Witnesses say a bloody knife was planted in his car to make it appear he had attacked the soldier first.
Doa'a Abu Amar
Doa'a lost 14 family members when the Israeli army bombed the daycare center in Khan Yunis where they had taken shelter during Israel's 2014 invasion of Gaza.
She contends that the Israeli army receives at least $100 million in annual tax-exempt funds from the Friends of the Israel Defense Forces, and that, had the U.S. Treasury enforced its rules and regulations, the FIDF would not have been able to send that money to a foreign army, and that foreign army would have had diminished capacity to indiscriminately bomb a densely-populated civilian urban center, and her family members might still be alive today.
Linda Kateeb
Linda Kateeb, an American citizen, owns six plots of land in the West Bank, with the deeds to those plots in her name and possession.
Linda has learned, however, that violent settlers had set up outposts on two of her plots and created forged ownership documents. They then sold these plots to other settlers, who used funds provided by tax-exempt organizations.
Linda is worried that if the U.S. Treasury continues to allow organizations like Christian Friends of Israel and the One Israel Fund, to funnel tax-exempt dollars to these settler organizations, she will lose her remaining four plots of land.

The Lead Defendant: Sheldon Adelson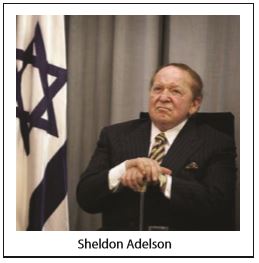 Sheldon Adelson, number 15 on Forbes 400 list, with an estimated net worth of $26 billion, made his money through his Las Vegas casinos. He is founder, chairman and C.E.O. of Las Vegas Sands, and owner of Israel Hayom, Israel's largest circulation newspaper, which is distributed free of charge.
One of the biggest donors in the world to Israel, he has given $5.2 million to Friends of the Israeli Defense Forces (FIDF). In 2010, he proudly noted that both his wife and daughter had served in the IDF, and that he expected his young son would grow up to be a sniper in the Israeli army; as for himself, his only wish was that the uniform he once wore in the U.S. military had been the uniform of the Israel Defense Forces. A close ally of Israeli Prime Minister Benjamin Netanyahu, Adelson has advocated strongly for Israel's conservative Likud party.
He is a major financial backer of the Republican Party and President Trump.

Other Defendants:
Haim Saban
A media mogul both in Israel and the U.S., Saban, at number 171 on the Forbes 400, with a net worth of $3.5 billion, is one of Israel's most active supporters. Last year, he co-chaired a Hollywood gala that raised $33 million for the IDF.

Saban also supports the American-Israel Public Affairs Committee (AIPAC) through its Saban National Political Leadership Training Seminar, which provides intensive pro-Israel training to college student activists.

Daniel Gilbert
Owner of the Cleveland Cavaliers and founder of Quicken Loans, Gilbert, with a net worth of $3.8 billion, is a big financial supporter of Friends of the Israel Defense Forces. In 2006, FIDF gave him an award in recognition of his support.

Norman Braman
A billionaire auto dealer, with a net worth of $1.6 billion, Braman donated $311,000 to American Friends of Ariel, a U.S.-based nonprofit that supports Israeli settlements in the West Bank. Those settlement are illegal under international law and a contradiction of longstanding U.S. policy.
Not hesitating to declare his extreme views on U.S.-Israel relations, Braman asserted in a 2011 interview that United Nations agencies have "developed into organizations that have one basic purpose, and that is to discredit Israel and actually delegitimize Israel."
Norman Braman died in 2014.
Irving Moskowitz
Irving Moskowitz was involved in funding nearly every significant building project in the eastern sectors of Jerusalem, beginning when he bought Yeshivat Bratslav Shuvu Banim nearly 40 years ago in the Old City's Muslim Quarter.In 1996, Moskowitz's project to open the Western Wall's tunnels to tourists was met by Arab rioting following claims by Islamic groups that the true goal of the initiative was to take over the Temple Mount.
Irving Moskowitz died in 2016.

John Hagee
Widely known in Southern states as a Texas-based televangelist, Hagee is also international chairman of Christians United for Israel. He receives (admittedly ) more than $1.2 million in salary and benefits. He is often on the air and in the news, at times giving sermons, at times making political speeches. He advocates a "pre-emptive war against Iran." In 2015, his ministries distributed more than $3.2 million to "Israeli charities."

Lev Leviev
Known as"King of Diamonds," Leviev, with a net worth of $1.1 billion, has been a major philanthropist for Hasidic Jewish causes in Eastern Europe and Israel.
Beginning in the 1990s, Leviev avoided being directly involved with the Yeltsin family, and nurtured ties with Vladimir Putin.
His diamond mining investments in Angola and his investments in Israeli settlements have been the target of protests.
His construction companies have also been heavily involved in building settlements in the Occupied West Bank.
Lawrence Ellison
Ellison is the C.E.O. and founder of Oracle Corporation. With a net worth of $54.2 billion, he is the world's wealthiest Jew, and the fifth wealthiest person alive.
He and his wife have donated millions to various causes in Israel, including a $ 9 million lump sum donation to the IDF through Friends of the IDF (FIDF).

Elliott Abrams
One non-billionaire who is nonetheless an important defendant and co-conspirator is Elliott Abrams who has played a key role in helping the billionaires hook up with non-profits to send guns, sniper-scopes and bulletproof vests to the Israel Defense Forces.
In 1991, Abrams was convicted of two felony counts of perjury for lying to Congress about the Iran-Contra scandal. Those convictions — he admitted his guilt — have not prevented him from continuing as an unofficial lobbyist for Israel and an operative within several administrations.
When the Palestinians' lawsuit named Abrams as a co-conspirator, the Obama administration provided him with a free lawyer (See Mondoweiss, "Obama Justice Department is Representing Elliott Abrams Against Suit by Palestinians Opposing Settlements", Aug. 8, 2016).

Non-Profits
Among the non-profit groups with headquarter addresses in the U.S., those accused in the lawsuit include: American Friends of Har Homa; Christian Friends of Israeli Communities; Friends of the Israel Defense Forces; the Hebron Fund; and American Friends of Bet El Yeshiva.
Several articles have appeared describing in detail the pro-settlement activities funded by these non-profit groups. One from The Guardian of December 8, 2009, entitled "The U.S. Cash Behind Extremist Settlers: The Hebron Fund is Raising Huge Sums for Israeli Settlements," reads, in part:
Settlers and the Israeli army routinely attack and terrorize Palestinians in Hebron, according to human rights groups such as B'Tselem in Israel.
In 1994, Hebron settler Baruch Goldstein massacred 29 unarmed Palestinians who were praying in a Hebron mosque. One of the honorees at the 2009 Hebron Fund dinner, Noam Arnon, called Goldstein "an extraordinary person."
The Hebron Fund's extremist positions are clear…Executive director Yossi Baumol told The American Prospect that "Israel must not give Arabs a say in how the country is run" and "You'll never get the truth out of an Arab."
The Hebron Fund's chief rabbi, Dov Lior, recently praised the 2009 book "Torat Hamelech" that says it is permitted for a Jew to kill civilians who provide moral support to an enemy…and to even kill young children, if it is foreseeable that they will grow up to become enemies.

Corporations
Several corporations are named, including Hewlett-Packard, Motorola, and G4S, the world's largest security company, as well as the Israeli banks, Bank Leumi and Bank Hapoalim. All are accused of conspiring to:
a. obtain more Palestinian land to be used for Jewish-only settlements;
b. defraud U.S. taxpayers by funneling hundreds of millions of dollars through tax-exempt organizations to settlements in the Occupied West Bank in violation of international law; and
c. drive all Palestinians off their land and out of the country which would then remain not only a Jewish State but a Jewish-only State.
Criminality, The Profit Motive, Material Intent, Money Laundering
Criminality
The billionaires work their war crimes by supporting illegal settlements, and at the same time making a few million in extra profits – all at the expense of U.S. taxpayers —and the greater expense of the Palestinians.
First, one or another of the billionaires decides to send several million or tens of millions of dollars to Israel, usually to support his favorite settlement in the occupied West Bank. The money is "donated" to a non-profit group, such as those mentioned above, thus entitling the billionaire donor to a tax exemption. The non-profit group immediately, within days or even hours, sends the money to the designated Israeli receiver, perhaps a settlement or the IDF. According to the lawsuit:
…the​ ​laundered​ ​funds​ ​have​ ​been​ ​knowingly​ ​sent​ ​overseas​ ​by​ ​U.S.​ ​tax-exempt​ ​entities,​ ​and​ ​have enabled​ ​armed​ ​settlers,​ ​with​ ​help​ ​from​ ​Defendant​ ​G4S​ ​personnel​ ​and​ ​Israeli army​ ​reservists,​ ​to​ ​threaten and​ ​intimidate​ ​the local​ ​Palestinian​ ​population​ ​on​ ​a​ ​daily​ ​basis.​ ​They​ ​have ​"convinced"​ ​at​ ​ least 400,000​ to abandon their homes and their 400-year-old olive trees. The annual funding is extraordinary, e.g. $1 billion every year, with $104 million going to the Israeli army in 2014. The U.S. donors knew and intended that the increased financial assistance would promote wholesale violence [against] the local Palestinian population and therefore accelerate settlement expansion. They knew that motivated, armed settlers who coveted their Palestinian neighbors' property would be able, with their substantial financial assistance, sufficiently to terrorize the local Palestinian population (poisoning water wells, slaughtering livestock, live target practice), and "convince" them to abandon their homes and olive groves.

…Besides funding rampant criminal activity in the OPT including ethnic cleansing which the entities characterize on their 990 forms as "charitable" or "educational" in nature, they have (a) financed and promoted religiously, and racially, discriminatory practices, i.e., funding "Jewish-only" highways, shopping malls, housing projects, and schools; (b) violated numerous other 501(c)(3) tax-exemption regulations, e.g. funding of theft and destruction of private property, which the host country, Israel, deems to be illegal, and (c) as already noted, violated at least eight federal criminal statutes, including the federal perjury statute…They committed perjury because when they were applying initially for tax-exempt status, entity officials never informed the IRS that they would be using contributions from donors to establish a settler militia unit or funding the purchase of military hardware, including sniper scopes, guard dogs, bullet-proof vests, and night-vision goggles. Tax-exempt entity officials, and their accountants, could face substantial jail time, because each violation of the federal perjury statute alone carries a five-year prison sentence and a substantial fine.
The Profit Motive
In addition to the estimated $1 billion dollars pro-Zionist Americans get to take off on their taxes for donations to pro-Israel charities that channel money to build and maintain illegal Jewish settlements, there is this monetary incentive, as charged on pages 187-188 of the lawsuit:
All Defendants named in Count IV have continued to exploit private Palestinian property by extracting valuable mineral resources and sending them to Israel-based suppliers. These suppliers have made enormous profits as a result of stealing Palestinian natural resources. For example, Heidelberg grossed $5-6 million in 2014 and paid $585,000 in royalties to the Regional Council for Judea and Samaria. Palestinians, including the Plaintiffs named herein, who own property on which are now located quarries and cement factories, and which Defendants in Count IV are pillaging, lose at least $241 million per year according to the World Bank.
The lawsuit singles out the large profits made by RE/MAX, the real estate firm. It has encouraged the ongoing demolition of Palestinian homes by armed settler militia members with G4S/IDF assistance, knowing that this criminal activity means more settlement expansion and more housing stock for its agents to sell to Jewish-only buyers. To date, RE/MAX agents have sold over 56,000 new homes and apartments in the OPT.
Veolia Environment, a French firm, has contracted with various settlements over the past 30 years to provide essential infrastructure transport and waste removal services to the OPT.
Volvo Group, a Swedish company, provides heavy machinery for the demolition of Palestinian homes in the West Bank and East Jerusalem, and the construction of Jewish-only settlements. Volvo also provides transport services to the Israel Prison Service, including buses that transferred prisoners such as Bassem al-Tamimi.
Hewlett-Packard, a U.S. company, has a $6 billion investment in the OPT. It provides essential computer technology, including sophisticated surveillance devices that enable settlers to maintain control over the surrounding Palestinian population — a big selling point for RE/MAX agents.
Motorola, another U.S. firm, established Motorola Israel as its first wholly owned subsidiary outside the U.S. in 1964. It provides the settlers with essential protection services. These include radar detection systems for tracking human movement outside the settlements, and expensive thermal imaging systems for targeting Palestinians. It has signed a $100 million deal with Israel for encrypted smartphones for its soldiers and security personnel. It also provides up-to-date biotechnology and metal detection gates at Israeli checkpoints.

Material Intent – The Holy Land Five Connection
The Holy Land Foundation (HLF) was once the largest Islamic charity in the United States, with the U.S. government itself using it to distribute funds to Palestinians in the OPT. Then, in 2001, the U.S. government designated it a terrorist organization, and in 2004, a federal grand jury charged the Holy Land Foundation and five of its officers with providing material support to Hamas, likewise deemed a terrorist organization by the United States.
The first trial, in 2007, ended in the partial acquittal of one defendant and a hung jury on all other charges. The retrial, in 2008, found all five defendants guilty on all charges under the material intent laws, and they were subsequently handed sentences of between 15 and 65 years for "funneling $12 million to Hamas." Lawyers have appealed the verdict, thus far unsuccessfully, on several counts, including the fact that the prosecution's star witness was an anonymous Israeli intelligence officer who was allowed to testify under a pseudonym, and granted immunity from cross-examination.
On May 27, 2016, the Martin McMahon law firm filed case 145-cv-021- 86-RDM in the district court of Columbia, in which it cites the material intent charge in the Holy Land Five verdict as legal precedent. In that suit (Boim v. Holy Land Foundation for Relief and Support) the court held that "if the actor knows that the consequences are certain, or substantially certain, to result from his act, and still goes ahead, he is treated by the law as if he had in fact desired to produce the result."
McMahon's lawsuit claims that the defendants named in Tamimi v. Adelson had reason to know of or actually knew of the war crimes, crimes against humanity, genocide, and other atrocities that were being committed on a daily basis by violent settlers and the Israeli army. The fact that they designated that their contributions go to an "educational activity of the Israeli army" [sniper schools] or to a "charitable" activity [scholarships for retired veterans] does not diminish their having knowingly financed, supported, and encouraged war crimes, including the IDF's criminal acts of assisting armed settlers with home demolitions, after physical attacks by the settlers on Palestinian homeowners and farmers, and in some cases murdering them.

Money Laundering
Related to the material intent law is the money laundering law [18 U.S.C. ₰ 1956 () (2)], which states "whoever transports, transmits, or transfers, or attempts to transport, transmit, or transfer a monetary instrument or funds from a place in the United States to or through a place outside the United States, with the intent to promote the carrying on of specified unlawful activity; knowing that the monetary instrument or funds involved represent the proceeds of some form of unlawful activity and knowing that such transportation, transmission, or transfer is designed in whole or in part to conceal or disguise the nature, the location, the source, the ownership, or the control of the proceeds of specified unlawful activity; or to avoid a transaction reporting requirement under State or Federal law, shall be sentenced to a fine of not more than $500,000 or twice the value of the monetary instrument or funds provided, whichever is greater, or imprisonment for not more than 20 years, or both."
Tamimi v. Adelson argues [page 94] that all the defendants are guilty of transferring funds by mail or wire across international borders to various settlements, knowing full well that those funds would be used by settlement leaders to arm the local settlement population as it pursued, with the Israeli army and G4S security assistance, the wanton property destruction and ethnic cleansing of the Palestinian people. The "charitable" organization Friends of Israel Defense Forces (FIDF) sends funds directly to the Israeli army, thus exposing FIDF officials to possible jail time, and the organization itself subject to a fine of $500,000 for each transaction which resulted in funds being transferred overseas.
Tamimi v. Adelson singles out, among others, Irving Moskowitz, whose tax-exempt foundation's beneficiaries, according to a Los Angeles Times report of May 9, 1996, were "pass-through" organizations designed to fund the expansion of settlements in the OPT and the purchase of property in East Jerusalem, including, as noted earlier, the destruction of the Dome of the Rock and Al-Aqsa Mosque.
To this end, Moskowitz funded the "pass-through" entity American Friends of Bet El Yeshiva (AFBEY) with $785,000 in laundered funds going to the creation of a Jewish-only enclave in East Jerusalem. Today, the settlers of that enclave are trying to remove the last remaining Palestinian family in the enclave by shutting off its electrical power sources and forcibly removing its air conditioning unit in order to make it appear that the family no longer lives there, thus making it subject to the racist Israeli Absentee Law.
Among other institutions that benefit from AFBEY's funding is a yeshiva headed by the militant rabbi Zalman Melamed, who has urged Israeli soldiers to disobey orders to evacuate settlements and who has argued that homosexual tendencies arise from eating certain foods.
AFBEY's donor base also includes the family foundation of the parents of Jared Kushner, President Trump's son-in-law. And a Trump Foundation tax form from 2003 shows that Trump himself donated $10,000 to AFBEY in honor of his friend and AFBEY's president David Friedman.
Soon after being sworn in as president, Trump named Friedman America's next ambassador to Israel. Friedman noted that if the U.S. embassy isn't moved to Jerusalem, he could still conduct business in East Jerusalem, as he owns a house there.

Wall of Silence
Perhaps as important as the lawsuit itself is the question: Why have so few people heard about it? Why have The New York Times and other mainstream media in this country surrounded the story with a wall of silence?
When I explain to friends that these billionaires and some corporations have been working an illegal scheme with non-profit groups so they get tax deductions for the millions they give to Israel, the most frequent response is: "Wow! I read the Times every day — I'm surprised I didn't know anything about that."
There is almost always an unintentional undertone of disbelief in those comments. Something like, well,
If it is really true, it couldn't be very important or it would have been in the Times. Indeed, the Times still modestly calls itself "the paper of record."
With that in mind, on December 15th, 2016, I sent the following email to the Public Editor, N.Y. Times:
On March 7 of this year [2016], Attorney Martin McMahon filed a suit in Federal District Court in Washington, D.C. against Sheldon Adelson and seven other billionaires who [as well as supporting Trump] have been sending millions of dollars to support Israel and specifically Israel's policy of building more settlements in the West Bank. The plaintiffs in the suit are some 40 Palestinians in the U.S. and in Israel who have lost homes and/or family members during the struggles in the occupied territory during the past decade.

As far as I can tell, this story was not covered by the Times in March, nor has any word about it appeared since then.

If this is the case, can you explain why?

Thank you in advance for your consideration.

Sincerely, Fred Jerome
The Times' only response, arriving within hours, was an emailed form letter from Public Editor Liz Spayd, the same as I received in response to at least three other queries to The Times. It read: "My assistant and I read every letter we receive," but we get so much mail we are often "not able to respond personally." It concluded: "If a further reply is warranted you will be hearing from us."So the question remains: Why have the mainstream media maintained a news blackout on this story of the Palestinian lawsuit? For the sake of brevity, let us focus on The N.Y. Times — which so often sets the agenda for the rest of the industry.
It's hard to imagine why The Times could not come up with a report on the Palestinian lawsuit that was "fit to print." Certainly the story has news relevance, with the Obama Administration's abstention from the U.N. Security Council's vote criticizing Israeli settlements, and the Trump Administration's shifting position on the issue.
Perhaps it is simply a sign of hard times (no pun intended) in the media business where cutbacks and mergers have closed a number of news outlets, while others have switched to online operations. The Times' reduced staff quite possibly is unable to cover the vast scope of happenings. If that is the case, readers can expect more missing pieces ahead: As this is being written (early 2017) the Times was expected to announce a new round of staff cuts (read layoffs) due to a continuing reduction in (print edition) circulation and — especially — in advertising.
Or perhaps The Times' failure to cover the "Billionaires Suit" story is a result of a pro-Israel bias on the part of the paper's publisher or top editors. My book, "Einstein on Israel and Zionism," details how The Times created an alternate-Einstein, one who "championed" the establishment of the State of Israel, when, in fact, for more than 30 years Einstein publicly spoke out against setting up a Jewish state. Possibly, in order to avoid a public confrontation with Einstein, The Times waited until the great scientist's death before printing their new version of his position — in his obituary! (See "Making a Myth", pp. 225-232 of my book "Einstein on Israel and Zionism")
To be sure, when media moguls have a bias, they rarely if ever circulate memos telling their staffs what to write or not to write. But anyone who has ever worked for a newspaper will tell you it doesn't take long for staff members to learn the publisher's biases — which stories will be liked and which will be spiked. In the 'old days', when stories were typed and submitted on paper, a large metal spike often sat on the news editor's desk, and whenever editors decided not to run a piece, they simply "spiked" the copy.
Despite the mainstream media's blackout, however, news of the lawsuit has been breaking through the wall of silence. This is partly due to the commitment and persistence of attorney McMahon, and partly to continuing coverage by a number of alternate media outlets.

Fortunately, The Times, Washington Post, CNN, etc. may be among the biggest media outlets in the country, but they are no longer the only media game in town. Here are just a few of the headlines on the Palestinians' lawsuit that some of the media outlets in this "alter-network" have run during the past year:
"How U.S. Charities Break Tax Laws To Fund Israeli Settlements" — The Electronic Intifada

"Why Are U.S. Taxpayers Subsidizing Right-Wing Israeli Settlers?— Mother Jones

"The Struggle For Indigenous Rights Extends to Palestine" — ThinkProgress.org

"Friends of Israel Defense Fund Raises $27 Million Under N.Y. Media's Nose" — Counterpunch

"New York Charity Abets Israeli Settler Violence" — Salon.com

"Lawsuit seeks federal investigation into U.S. groups funding settlements"" — Mondoweiss
And what about the reaction to the lawsuit in Israel? Certainly, the Zionist regime there cannot be happy about a lawsuit that challenges hundreds of millions of dollars a year coming its way.
Most Israeli officials seem to have taken a head-in-the-sand response: If we don't see it, it will go away.
But when the lawsuit was first filed in March 2016, at least one Israeli "legal expert," Nitsana Darshan-Leitner, founder of the Israeli Law Center Shurat HaDin, called the lawsuit "frivolous," with "no chance of surviving," and she predicted it would be "quickly dismissed."
In fact, Federal Judge Tania Chutkan, in the Washington, D.C. District Court, originally "stayed" the lawsuit, essentially putting it "on hold" while she considered it (and/or discussed it with other Federal officials). By the end of 2016, however, McMahon reported that Judge Chutkan "just entered an order saying the case will start up again, and pending motions will be decided."
So much for the suit being "quickly dismissed."
Indeed, the anti-billionaire lawsuit by McMahon and the Palestinians he represents ironically may be coming at a propitious moment for U.S. foreign policy. A number of recent media pieces, including an important analysis in the January 2017 issue of Foreign Policy magazine, have underscored the feeling by U.S. officials that to maintain their ties with Jordan and other "oil allies" in the Middle East, Israeli expansion needs to be limited, at least for the time being — Hardly an anti-Israel position, though some Zionists will no doubt see it that way.

A Continuing Struggle
The story of the Palestinian plaintiffs listed in Tamimi v. Adelson — indeed the story of so many Palestinians today — is a story of resistance to Israeli occupation and struggle against colonialism Their story is described in Ben Ehrenreich's moving book "The Way to the Spring: Life and Death in Palestine," and even more vividly in four ten-minute videos the Tamimi family has put on YouTube; these are the YouTube links:
Nabi Saleh 28-8-2015
2011-12-9 Mustafa Tamimi
Rushdi Tamimi Nabi Saleh
Nabi Saleh 24-8-2012
Bassem Tamimi would surely say that the "billionaire lawsuit" is one good step, but only one. Indeed, it is certain that all of the Palestinian plaintiffs in the suit would say more is needed.
Including litigator McMahon. Here's how he puts it: "It's always the right time to do the right thing. Palestinians have been living under a brutal occupation for 50 years, and this is one small step in trying to improve their situation. Their property has been stolen, 400,000 Palestinians have been removed from the OPT, and 49,000 Palestinian homes have been destroyed or confiscated, and today most of those remaining are living in open air prisons. The corporate defendants named in the lawsuit have made millions of dollars off their occupation."

And what are the chances of the lawsuit succeeding? "Chink, chink, chink,." McMahon told one interviewer. Slowly but surely, in various ways, Israel's crimes, funded by our dollars, are being exposed to the light of day.□